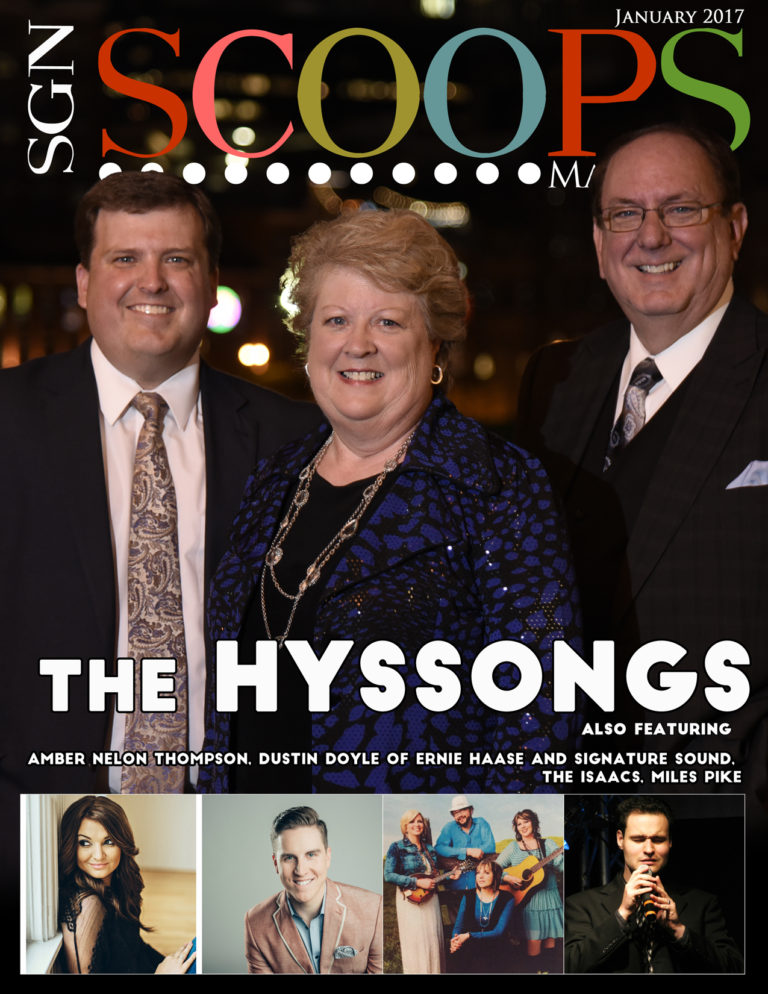 Happy New Year! To celebrate the beginning of a brand new year, we bring you a cover story on a family who is on the brink of new things in Gospel music.  The Hyssongs are seeing their music climb the charts more than ever and SGNScoops Magazines want to celebrate with them by sharing their story with you.
Excerpt from the cover story on The Hyssongs: "…Recently, this family was threatened although they didn't know it at the time. Thanksgiving weekend was lovely in Pigeon Forge and the fires burning in the mountains didn't seem ominous. "The Sunday after Thanksgiving, we drove into Pigeon Forge for six nights of concerts. As we approached, we could smell smoke from the fires that were burning in the distance. By late afternoon it looked like it was snowing, but actually it was ashes blowing and falling from the sky…." Click here for more!
 We hope you enjoy the indepth look into the life of Amber Nelon Thompson as well as Dustin Doyle,  Miles Pike and the incomparable Lily Isaacs. So many more stories and features are included this month — we know you will love it!

Excerpt from Amber Nelon Thompson: "… So many times, a lot of young couples, they don't ask the hard questions. They don't want to ask the hard questions. They want to pretend everything is good, but both of us had that (same) feeling. We were just trying to figure out what that was. We started seeking counsel from our pastors and people we loved. Come April, we made the decision to call off the wedding. There was an instant peace you just can't explain. It's the peace of God. We were four weeks away from the wedding day."
(Read more here)
Special thanks to the USAGEM for acknowledging Rob Patz and SGNScoops in the Media category for the 2016 awards.
Happy new year and may God richly bless you in 2017!
To download the PDF SGNScoops Magazine Go
HERE
Find SGNScoops Magazine On Facebook
HERE