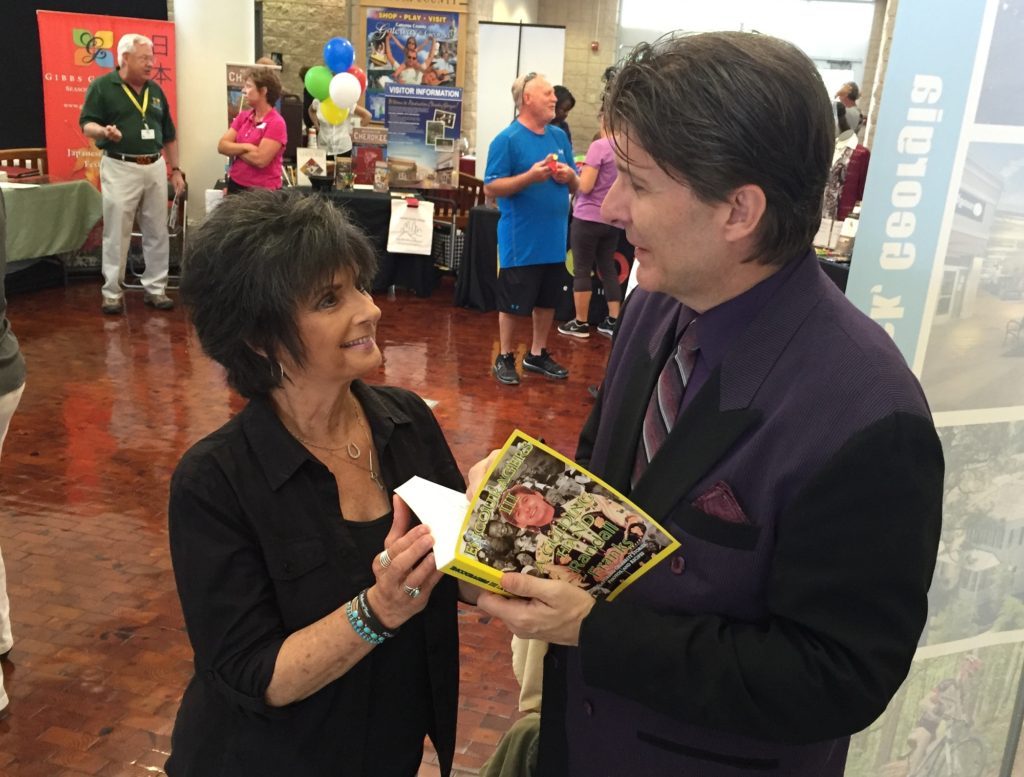 Actor/entertainer/author Randall Franks, of Ringgold, said he hopes the third book from his Encouragers series will inspire people to make a difference in the lives of others.
"Encouragers III: A Guiding Hand," released this month worldwide from Peach Picked Publishing, shares 58 stories of actors, musicians and everyday folks who played a role in Franks's life.
Franks, a former NBC and CBS star who is best known as "Officer Randy Goode" from the TV series "In the Heat ofthe Night," starred in three TV series and 15 films including his latest "Broken" with Soren Fulton and Joe Stevens. Musically, he is recognized as an International Bluegrass Music Museum Legend and Independent Country Music Hall of Fame inductee.
"Through this wonderful process of writing this book series and seeking to explore the gifts of encouragement shared with me by others, I have tapped over 150 stories of folks who God sent into my path and they were willing and able to realize their role in nudging me forward," he said. "This latest volume by far does not finish the list of those who impacted my life or those that God will send my way in future but it does allow me to acknowledge a few who have spent some time with me along the way.
"Whether for simply a moment in time, or for an extended period, we are here to make a positive difference in the lives of others," he said. "I pray by reading these stories, looking at the photos, or even cooking one of the celebrity recipes, your day might be improved. Possibly this time shared will propel a life towards an uplifting goal through the blessings of your and God's guiding hand."
The two earlier books in the series are "Encouragers I: Finding the Light" and "Encouragers II: Walking with the Masters."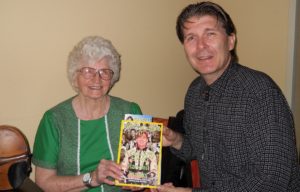 The third volume highlights performers such as "Star Trek" luminary James Doohanand Grand Ole Opry star Little Jimmy Dickens; American icon Bill Monroe and "The Dukes of Hazzard" legend Sonny Shroyer; country music masters Harold Bradley and George Jones; bluegrass hall of famer Kenny Baker; "In the Heat of the Night" star Alan Autry; and heralded gospel music performers Karen Peck, the Watkins Family and Tim Lovelace.
Franks said guiding hands who share their knowledge, skill, hopes and dreams can bring forth destinies yet undreamed. His book features narratives about and interviews with those who contributed to the direction of his life and career.
He became a country music personality as a youth beginning appearances at major country, folk, bluegrass and gospel events such as Country Music Association Fan Fair, National Folk Festival, National Quartet Convention, National Black Arts Festival and for the Grand Ole Opry. With 24 career albums in four genres, his latest is "Keep 'Em Smilin'" He has performed to over 145 million fans around the world. He is a syndicated newspaper columnist featured across the Southern and Midwestern U.S.
The 448-page book includes over 58 stories and 395 photos including special Moments in Time photos featuring over 125 stars from Dean Cain to Dolly Parton and Jeff Foxworthy to Third Day from Randall's personal collection and 72 celebrity, family and friend recipes.
The book is also available for order in the store at http://randallfranks.com/ for $25 including postage and handling, and through book outlets around the world.
It is also available from Amazon here https://www.amazon.com/Encouragers-III-Guiding-Hand-3/dp/0984910867.
Like the book series on Facebook https://www.facebook.com/EncouragersbyRandallFranks.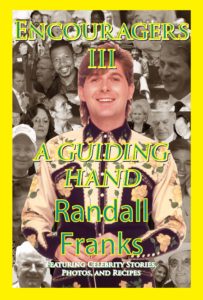 Encouragers III featured stories:
TV and film personalities: Alan Autry, James Best, Dan Biggers,  James Doohan, Jeff Foxworthy, Robert Goulet, David Hart, Geoffrey Thorne, Sonny Shroyer, Tonea Stewart,  and Robert Townsend.
Country and pop music personalities: Harold Bradley, Johnny Carson, Phyllis Cole, Little Jimmy Dickens, George Jones, The Jordanaires, Merle Kilgore, Patty Loveless, Mac Magaha, "Doc" Tommy Scott, Frankie Scott, Buddy Spicher, Buck Trent, and Leona Williams
Bluegrass artists: Eddie and Martha Adcock, Kenny Baker, Byron Berline, Jerry and Helen Burke, Vassar Clements, Peanut Faircloth, John and Debbie Farley, Otis Head, Bobby Hicks, Barney Miller, Bill Monroe, and Tater Tate
Gospel artists: Albert E. Brumley, Jason Crabb, Ernie Dawson,  Lou Wills Hildreth, Tim Lovelace, Karen Peck, Dennis Swanberg, Tim Surrett, and the Watkins Family
Find Earlier Encouragers Volumes on Amazon.com
Encouragers I: Finding the Light
Encouragers II: Walking with the Masters
Connect with Randall Franks on Social Media or the Web
https://www.youtube.com/channel/UCDHsC33yZsDsB8wA0WC5PVw
https://www.facebook.com/pages/Randall-Franks/41082829233?ref=hl
https://twitter.com/RandallFranks
https://www.reverbnation.com/randallfranks
https://myspace.com/randallfranksmusic
Share America Foundation. Inc.
http://shareamericafoundation.org/
For more Gospel music news, click here.