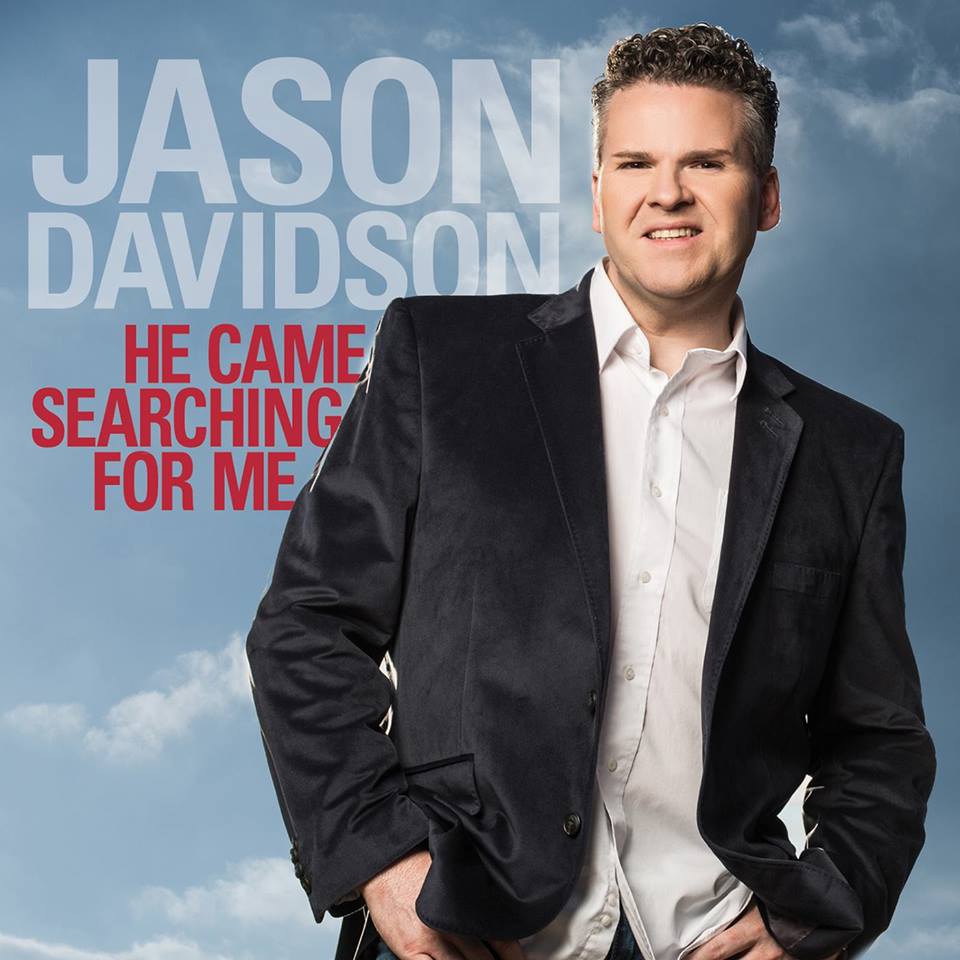 Nashville, TN (July 21, 2016) Breakout Southern Gospel artist, Jason Davidson, has emerged onto the scene of Gospel music with the release of his debut album, He Came Searching For Me. Jason, husband and dad from Sebastopol, Mississippi, has been singing most of his life, but just recently took the giant leap into the music world. Jason has enlisted the help of 38-year Southern Gospel Music veteran, Les Butler, to produce his new album and help him launch his career. Jason says, "I feel so blessed at this stage in life to have the opportunity to focus the majority of my energy on music and can't wait to see how the Lord uses this ministry for his glory."
With songs such as "Without Forgiveness" and "Love Sets Another Place," Jason has created an album that truly allows others to see his heart and experience the love and hope that can only be found in Jesus Christ. Song by song, He Came Searching For Me walks through Jason's own life with the Lord, sharing what he has learned over the years. Jason says, "In singing the majority of these songs, I felt like I was telling my own life story." This amazing conclusion can only happen when you mix incredible, moving lyrics with passionate musicians and killer vocals.
Jason Davidson's friends and family, both in the industry and out, are coming together at the Family Room Studios, where the album was tracked, on Monday, July 25 to celebrate the release of his new album. It will be an incredible afternoon of music, food, fellowship and giveaways. Jason could not be more humbled by the many ways the Lord has blessed him thus far and excited for the opportunities that are to come. Les Butler, President of Butler Music Group, says, "In my 38 years in Southern Gospel Music I've never heard a "first album" like this one! I am so grateful to be a part so early in the career of an artist that will be impacting the cause of Christ for decades to come!"
To follow Jason Davidson on this journey visit http://www.jasondavidson.net.
For more information on Family Music Group go to http://familymusicgroup.com.
About Butler Music Group
Based in Nashville, Tennessee, Butler Music Group provides professional management and consulting services to Southern Gospel and Bluegrass artists including Dunaways, Heaven's Mountain Band, Tammy Jones Robinette, Three Bridges,Williamson's, Sacred Harmony, and Coffmans.
BMG subsidiary, Family Music Group, is the label and radio promotion division of BMG. Label or Radio Promotion artists include the Williamsons, Canton Junction, Hagees, Matt Hagee, Jimmy Fortune, Oak Ridge Boys, Dunaways, and many others.
Les Butler has been actively involved in Southern Gospel Music for over 37 years as a musician, producer, manager, former publisher of the Singing News, and as a nationally syndicated radio host. Butler started Butler Music Group in 1978, and purchased Family Music Group in 2003. He is a past March of Dimes AIR award, as well as winner of the Paul Heil Broadcasting Award in 2011. Butler's syndicated radio show, Les Butler and Friends, is heard across America and abroad. Butler's playing and production credits include Palmetto State Quartet, Joe Mullins and the Radio Ramblers, Steeles, Dunaways, Crabb Family, Easter Brothers, Marksmen Quartet, Earl Scruggs, Bowling Family, Jimmy Fortune, Marty Raybon, and many more. Butler's publishing companies are Hurry-Up Publishing/BMI and Hush Jean/ASCAP. He continues to host Harmony Road TV, a nationally televised Southern Gospel TV show, and he has recently started hosting a daily Southern and Bluegrass Gospel video blog at southerngospel365.com.
For more Gospel music news click here.