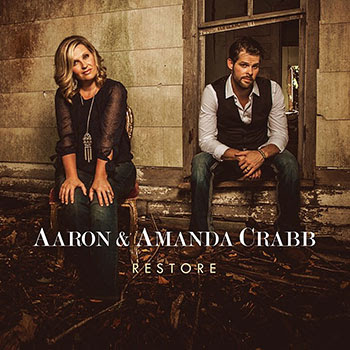 NASHVILLE, Tenn.— Acclaimed husband/wife duo and Difference Media recording artists Aaron and Amanda Crabb return August 26 with Restore, their first new studio recording in three years. Produced by Aaron Crabb, the 13-song set reflects the couple's recent journey, from launching and pastoring a burgeoning church near Nashville to the birth of their fourth child.
Restore showcases Aaron and Amanda Crabb's signature harmonies and modern country influences, featuring four selections co-penned by the couple. The project opens with the nostalgia-laden "Time Flies." "Being a mom of four, ministering at a growing church and just being a woman in general, you begin to realize how quickly time slips by you," Amanda says of the inspiration behind "Time Flies." "It's one of those songs that just brings perspective in the crazy, busy, mean world that we live in, reminding us to take in every moment that we have because we won't get them back."
Other highlights of Restore include the title track, a stirring melody carrying a vulnerable prayer written by Amanda; and the swampy "Two Coats," with Aaron's sister Terah Penhollow on vocals and his twin brother Adam Crabb on harmonica. The album also features two powerful worship anthems: "Kingdom Come" showcases a bridge written by the couple's 9-year-old daughter Eva, while "Your Blood" has quickly taken root in the family's new church, Restoring Hope.
"I am driven to Inspirational songs, songs that can relate to people in their everyday lives, the personal things they go through," says Aaron of the project's overarching theme. "Music is powerful. A message and a melody can sometimes do what a sermon can't."
Aaron Crabb rose to prominence as a member of the GRAMMY®-nominated Crabb Family, one of Southern Gospel's most iconic groups. Together, Aaron and Amanda Crabb have previously released four notable projects, including 2013's Mercy, which earned four Dove Award nominations and a Vocal Duo nod from the Inspirational Country Music Association. Mercy also produced two mainstream country singles: "I'm Learning" and "If I'm Guilty."
Difference Media is a division of Cornerstone Church, founded and pastored by John Hagee. The San Antonio-based label features some of the leading names in Gospel music including Canton Junction, Ricardo Sanchez, Ivan Parker, Matthew Hagee, Tim Duncan, The Cornerstone Sanctuary Choir, John Hagee and The Hagees.
Restore will be distributed by Capitol Christian Distribution. For further information, visit turningpointpr.com or differencemedia.org. Follow Aaron and Amanda Crabb on Facebook.
For live streaming of Gospel music, click here.
For more Gospel music news, click here.