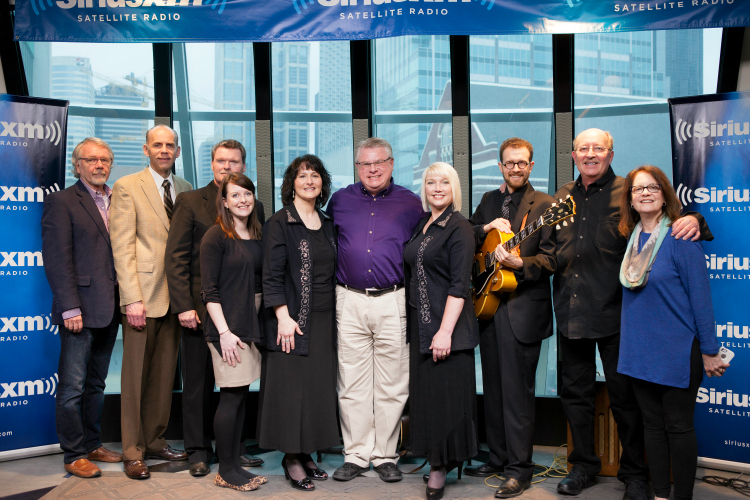 NASHVILLE, TN – Legendary Country Gospel group The Chuck Wagon Gang will perform favorites like "I'll Fly Away" as well as songs from their latest New Haven Records release, Meeting in Heaven – The Chuck Wagon Gang Sing the Songs of Marty Stuart, on SiriusXM's enLighten channel (channel 65) on May 7th at 12 noon, May 8th at 10pm , May 10th at 1pm, and May 11th at 6pm (all times Eastern).
The live performance was recently recorded for an invitation-only crowd at SiriusXM's studio in the tower of the Bridgestone Arena in Nashville. Kyle Cantrell, Program Director for enLighten at SiriusXM reflected, "It was a terrific honor to have the Chuck Wagon Gang in our studio. I truly believe this is one of the most important vocal groups in the history of American music–in any genre. Their sound is instantly recognizable and their songs are all so uplifting."
Chuck Wagon Gang member and manager Shaye Smith was thrilled by the opportunity stating, "It was such an honor to share this time in the studio with Kyle Cantrell and SiriusXM radio. Not often does an artist get to sing with the Ryman Auditorium as their background!"
The Chuck Wagon Gang was founded in 1935 and holds the distinction of being the oldest mixed gospel recording group still performing with ties to its original founder. After eight decades and 40 million in record sales, Country/Bluegrass icon Marty Stuart recently wrote and produced Meeting in Heaven, an all-new studio album of gospel songs performed in the spirit of founder "Dad" Carter who instructed them to "Sing the old songs, and sing them the way I taught you."
A devoted music historian, Marty Stuart also developed America's Gospel Singers, The Legacy Lives On, a full-length DVD documentary shot by world-renowned photographer Jack Spencer that chronicles the 75+ year history of the Chuck Wagon Gang. The DVD, which is currently airing on PBS stations, tells their story through rare family photographs, poignant personal stories, old recordings and new live performances. In addition to Marty Stuart and the Chuck Wagon Gang, the DVD features special appearances by Connie Smith, Merle Haggard, Eddie Stubbs and Duane Allen of the Oak Ridge Boys.
SiriusXM is scheduled to air the pre-recorded concert on the enLighten channel beginning May 7th. Billed as "North America's Southern Gospel Station", SiriusXM's enLighten channel (channel 65) is available commercial-free via satellite to more than 30 million subscribers.
New Haven Records president Ken Harding concludes, "The Chuck Wagon Gang has brought hope and encouragement to millions throughout the years and we are honored to see how these new projects continue to touch hearts today."
The CD is available on both iTunes and Amazon . The DVD can be found on Amazon.
Find More Southern Gospel News HERE