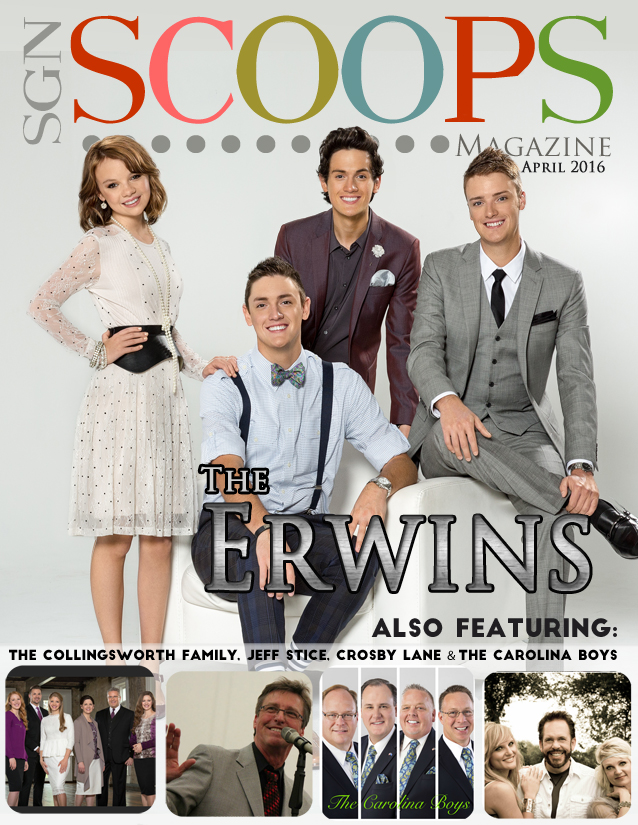 It's Spring and SGN Scoops has a brand new magazine for you this month! We highlight the fresh sounds of the young family group, The Erwins, as well as popular artists The Collingsworth Family, Jordan Wilburn, Jeff Stice, Squire Parsons,The Lore Family, The Wisecarvers, Crosby Lane, The Carolina Boys and Jerry Pilgrim of Master's Voice.
We invite you to join Dusty Wells in remembering Buck Rambo. Get into Southern Gospel technology with Lynn Mills. Be sure to catch all the features by this month's writers Bethany Cook, Erin Stevens, Jaquita Lindsey, Jennifer Campbell, Justin Gilmore, Matt Baker, Paige Givens, Robert York, Timmy Williamson, Tina Wakefield, Vonda Easley and Charlie Griffin.
Can You Handle The Truth? Be sure to catch this monthly column by David Staton, as well as the regular blogs by Laurette Willis, Selena Day, Kelly Nelon Clark, and Roger Barkley Jr.
All this plus the Top 100, the Christian Country Top 40, music festival updates and so much more. Be sure to read every page! We want to uplift, encourage and inspire you. Please let us know if you have any questions or comments. Lorraine@sgnscoops.com
Read the magazine here
Download here
More news