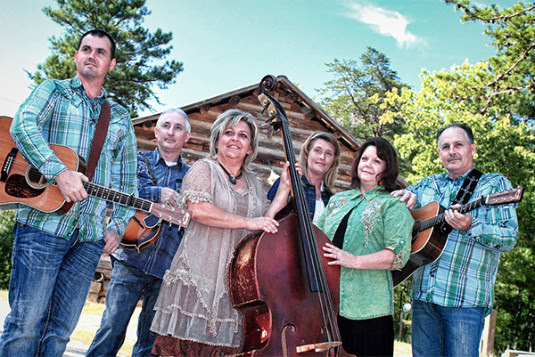 Nashville, TNÂ (March 22, 2016) Butler Music Group management and Family Music Groupradio promotion artist, Heaven's Mountain Band, are celebrating their second consecutive #1 song on the Singing News bluegrass chart. Their most recent single, "I'll Ride This Ship To The Shore," shot up to the number one spot just a few short months after Heaven's Mountain Band received their first chart topper with "Somebody Prayed."
"It's an exciting time for Heaven's Mountain Band. Their success has been overwhelming and it has people putting them in the same discussion as the Primitive Quartet, Doyle Lawson and Quicksilver and other top bluegrass artists," stated Les Butler, president of BMG.
Heaven's Mountain Band's new radio release, "When The Blood Fell," was just sent out to radio nationwide the first week of March. "I believe we are just seeing the beginnings of the blessings coming to this fantastic family group, "added Les Butler.
About Butler Music Group
Based in Nashville, Tennessee, Butler Music Group provides professional management and consulting services to Southern Gospel and Bluegrass artists including
Eighth Day, Heaven's Mountain Band, Kramer's, Dunaways, Tammy Jones Robinette and Williamson's.
BMG subsidiary, Family Music Group, is the label and radio promotion division of BMG. Label or Radio Promotion artists include the Williamsons, Canton Junction, Hagees, Matt Hagee, Jimmy Fortune, Oak Ridge Boys, Dunaways, and many others.
Les Butler has been actively involved in Southern Gospel Music for over 37 years as a musician, producer, manager, former publisher of the Singing News, and as a nationally syndicated radio host. Butler started Butler Music Group in 1978, and purchased Family Music Group in 2003. He is a past March of Dimes AIR award, as well as winner of the Paul Heil Broadcasting Award in 2011. Butler's syndicated radio show, Les Butler and Friends, is heard across America and abroad. Butler's playing and production credits include Palmetto State Quartet, Steeles, Dunaways, Crabb Family, Easter Brothers, Marksmen Quartet, Earl Scruggs, Bowling Family, Jimmy Fortune, Marty Raybon, and many more. Butler's publishing companies are Hurry-Up Publishing/BMI and Hush Jean/ASCAP. He continues to host Harmony Road TV, a nationally televised Southern Gospel TV show, and he has recently started hosting a daily Southern and Bluegrass Gospel video blog at southerngospel365.com.
More news