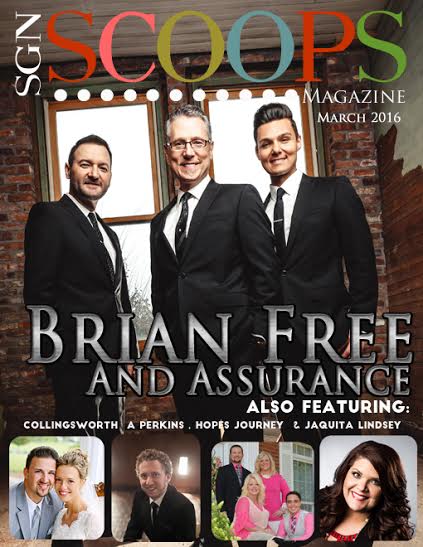 Happy Spring and welcome to the Easter edition of SGNScoops Magazine. Just as we celebrate the life, death and resurrection of Jesus Christ each and every edition, you will find evidence of the Good News in the features of March 2016.
Enjoy the inside look at Brian Free and Assurance who just became a trio and Craig Harris finds out what else has changed with this award winning group.
Brian Free himself has been in Gospel music since the '80's, and his history is outlined by Charlie Griffin.
Other great artists featured are Phillip and Sharlenae Collingsworth, Jaquita Lindsey of 11th Hour, The Griffiths, Josh Allen of the Allens, Hope's Journey, and Aaron Perkins of the Taylors who is currently featured in a faith based film, Providence.
Ralph Moore tells us of traveling over a million miles with some of the top acts in Gospel music.
Monthly columns are included to uplift and encourage you, by Dusty Wells, David Staton, Laurette Willis, Selena Day, Kelly Nelon Clark and Jennifer Campbell. You'll enjoy reading the updates on Southern Gospel Weekend, Christian Country Expo and Creekside Gospel Music Convention. Vonda Easley gives us her monthly DJ Spotlight and Randall Hamm reviews the latest releases.
All this and our countdowns on the top Christian Country and Southern Gospel songs in the nation.
Be sure to read it all, but more than that, be sure to take time this month to think of what Jesus Christ did for you when He suffered on the cross, died and then rose again to bring us new life, salvation, healing and eternity with Him.
Happy Resurrection Sunday!
Read The PDF Magazine HERE
Find SGNScoops On Facebook HERE
Read the online magazine HERE