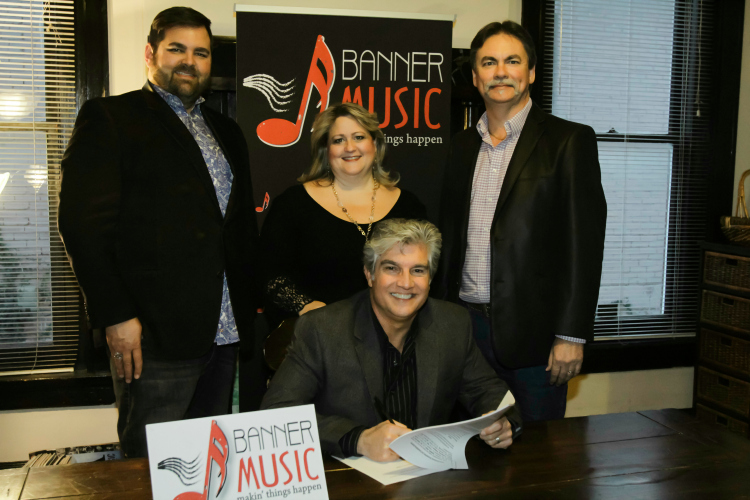 Nashville, Tennessee (March 8, 2016) Banner Music is proud to announce the addition of award-winning singer/songwriter Jerry Salley to their creative family.
"We are thrilled to have veteran songwriter Jerry Salley on staff at Banner Music. His career accomplishments speak to his hard work and dedication to this industry and we look forward to his continued success as part of our company," said co-owner Camilla Kleindienst.
Salley, who co-wrote "Outlaw State of Mind" on Chris Stapleton's recent Grammy-winning country album, Traveller, has penned over 400 cuts in country, bluegrass and gospel genres. His extensive talent has garnered him recordings by multiple artists such as Sir Elton John ("Where We Both Say Goodbye"—a duet with Australian artist Catherine Britt), Reba McEntire ("I'm Gonna Take That Mountain" and "Close To Crazy"), and includes the 1990 Dove Award's Inspirational Song of the Year, "His Strength is Perfect", co-written with and recorded by Steven Curtis Chapman and now found in Church Hymnals.
"I am happy to join the creative minds here [at Banner Music] whose heart and family atmosphere mirror the passion of their work," said Salley.
Salley, SESAC's Country Songwriter of the Year in 2003, was also nominated in 2014 by The International Bluegrass Music Association for Songwriter of the Year. His winning streak continued this year with his three tracks on the SteelDriver's Grammy Award winning Best Bluegrass Album,The Muscle Shoals Recordings.
In October of 2015, Salley released the bluegrass/gospel project Gospel From My Grassroots that includes guest vocals from Steven Curtis Chapman to Salley's daughter, Maggie, with contributing harmonies.
(Picture Caption) From Left to Right: James Robert Webb, Camilla Kleindienst, Jerry Salley and Daniel Kleindienst (Courtesy of Bev Moser)
If you would like to interview Jerry Salley contact AG Publicity at info@agpublicity.com .
To learn more about Jerry Salley you can go to www.jerrysalley.com or his Facebook Page at https://www.facebook.com/jerry.salley.7 .
To book Jerry at your church, event, or concert contact him at jerrysalleymusic@gmail.com or call 931- 450-4220.
####
About Jerry Salley
Referred to by Billboard Magazine as "One of Music Row's greatest veteran tunesmiths", Jerry Salley, the 2003 "SESAC Country Music Songwriter of the Year", has had over 400 songs recorded in his multi-award winning career.
Born in the small southern Ohio town of Chillicothe, he signed with Performing Rights Organization SESAC at eighteen years old. Writing and singing in Nashville since 1982, he has written multiple hits in Country, Bluegrass and Gospel Music and may well be the most successful songwriter to have earned equal recognition from all three genres of music – not to mention his recent activity of songs/awards recorded by some of the best/current artists in the "Americana" music genre.
His country hits include the Reba McEntire smash "I'm Gonna Take That Mountain", "Breakin' New Ground" (Wild Rose/Universal Records), "I Fell In The Water" (John Anderson/BNA Records), "How Do You Sleep At Night" (Wade Hayes/DCK/Columbia Records), and four other Billboard chart records. His has written Three #1 Gospel hits, several #2 Gospel hits and over a dozen other top ten/top twenty gospel songs. In addition to songs recorded by the previously mentioned artists, he has had songs recorded by Patty Loveless, Joe Nichols, Darryl Worley, Travis Tritt, Tracy Lawrence, Neal McCoy, Mark Chesnutt, Cece Winans, The Whites, and many others. He is a nine-time Dove Award nominee, having won a prestigious Dove for the 1990 Inspirational Song of the Year "His Strength Is Perfect", recorded by and co-written with Steven Curtis Chapman.
As an artist, Jerry has performed on numerous stage shows, including the honor of performing as a soloist many times on the world famous GRAND OLE OPRY. His television appearances include LATE NIGHT WITH DAVID LETTERMAN, REGIS AND KATHY LEE, NBC'S TODAY SHOW and several different TNN (THE NASHVILLE NETWORK) shows.
More news.