Tony Burchette is a native of Hudson, NC and now resides in Lenoir,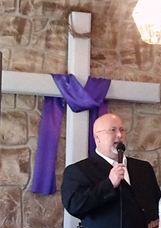 NC.Tony and his wife Megan have eight children and five grandchildren. He has been in the ministry work for 31 years.
He was saved at Ambassador Baptist in Hudson, NC in 1982. After receiving Christ as his personal Saviour, he prayed and ask God to let him work in the ministry and sing for him. In 1985 he, along with three brothers, Danny,Terry, and Larry Messer, formed the group Brothers in Christ. They later changed the name to Journeys End. This group traveled proclaiming the Gospel in word and song, for eleven years. In 1996 Tony moved to Rutherfordton, NC, along with Ron Epley,Clyde Smith, Johnny Lovelace, Eddie Bazzle and formed the group The Praise Masters. Tony traveled with them for 7 years and in 2003 came off  the road due to sickness. After a year off the road and many days of prayer, he knew in his heart that God wasn't finished with him. He started singing again, this time going full-time in the ministry. He along with friends Lynn Swizinsky (PA) and Eric Cooper (MD) traveled selective dates together as "Necessity Trio". He then formed the Quartet, Grateful Heart. The Quartet members consisted of Tony Burchette, Megan Burchette, Laura Sturgis, and Ron Watts. The group members were no strangers to gospel music. Laura, Ron, and Tony traveled together with the Praise Masters until 2003, Ron came off the road in 2004, and Laura came off in May 2006. Knowing their hearts desire to sing the gospel, Tony brought them together in November 2006, once again to work for the Lord. In December 2007, after a brief time off the road for Tony to undergo more operations, the group decided to take some time to spend with their families. Today, Tony continues to sing the Gospel he loves so Dearly and travels with The Street Family based in Morganton, NC.
We as Christians should always be willing to go and work in the field whenever and wherever God calls.Our prayer is that you will see Jesus and feel his love in the songs we sing.Throughout the years in the ministry, Tony has been blessed to share the stage with Gospel Music Artist such as; The Speer Family, The Kingsman, John Lanier, New Hinson's, Nelons, Booth Brother's, Phil Cross,  American Qt., Cross Reference, The Hayes Family,The Whisnants, Karen Peck & New River. Shellem Cline, The Street Family, Campbell & Rowley, Bev McCann, The Golden Valley Crusaders, Square Parsons, and many more Great artist in Southern Gospel Music.
We sing songs that lift up, encourage and edify the saints as well as minister to the lost.
To the end that my glory may sing praise unto thee. Psalms 30:12