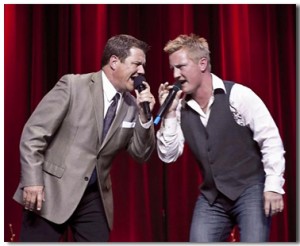 Polite, courteous, and even a little reserved. That's what you might think of Jonathan and Jordan Wilburn when you meet them. Passionate, joyful and more than a little outspoken onstage, this father-son duo are compelled to bring their message of hope and compassion to audiences across the nation, in their own way. The Wilburn men are committed to their Lord and their family, a trait that has been passed down through generations.
Jonathan recently talked about love, relationships and his very best friend, his wife Sandra. Here is his story: "Sandra and I met in high school. She played basketball. One day when she was coming from the gym to class, my friend asked me to get this pretty girl's phone number. I told him I would. When I went to get the phone number I was struck! I told her that my friend wanted her number. She gave it to me and my buddy never got it! The rest is history."
Their first date was McDonalds and a movie, but apparently Sandra didn't mind the budget-savvy splurge as they were still together a year later when Jonathan asked her to marry him. "It was a huge snow storm. I was determined to get to her house. We were going to go out but it snowed about eight inches. I asked her while sitting right on her mom and dad's couch. She said yes and I shouted. I almost got ran over by a snowplow on the way home!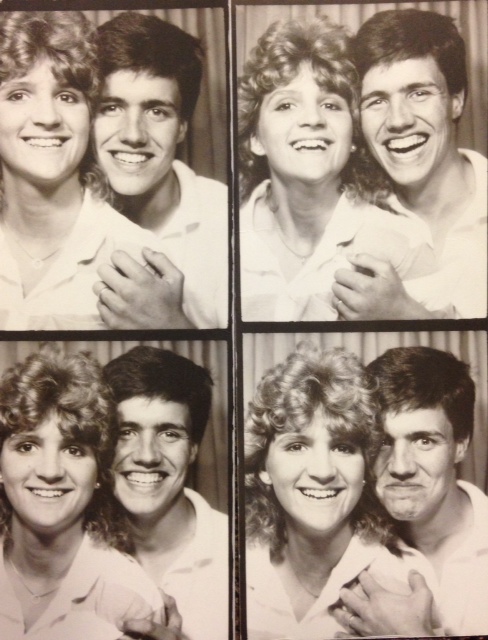 "Sandra and I have found that we both like a lot of the same things. We ride bikes, watch sports and just love being together. Yes, my wife loves sports! We both love the Lord and know He is in control. We are not a perfect couple but we serve a perfect Savior. We trust God together. It seems when my faith is weak, hers is strong and when hers is weak mine is strong." Jonathan says he could not imagine a life without his kind and gentle wife.
This romantic couple celebrates their anniversary every year by renting a cabin in the Smoky Mountains. On March 7, 2015, they had been married for 29 years. Their son Jordan was married to Lauren in 2013. They had their first child, Marley Lynn on March 17, 2014. The younger Wilburns are also enjoying married life, as shown by the pictures they shared with SGN Scoops.
Jordan recalls, "My wife and I met at the Ford dealership in Gadsden, AL, that her father owns, called Ronnie Watkins Ford. I went in to have my truck serviced and ended up with a lot more than just my tires rotated and balanced!" He adds, "Our first date was at a little hometown restaurant in Gadsden called The Courtyard. We had dinner and then sat for the next two hours talking and laughing. We hit it off really well."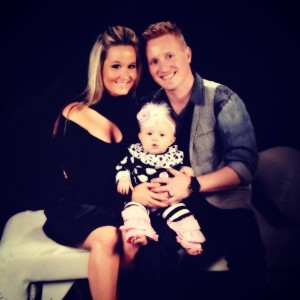 Jordan asked Lauren to marry him during a meal he prepared for her. They had only been dating for three months, but as he says, "When you know, you know!" Lauren thinks Jordan is funny and the couple continues to laugh together nearly two years later. "Of course marriage is far from easy, but just like anyone else, we work at it every day and make an effort to talk with each other and let each other know what is happening in our lives."
We asked Jordan what he finds romantic. "On our last anniversary we actually just chilled at home, grilled steaks, and watched a movie on TV," says Jordan. However, he does have the heart of a romantic. "If I could do it again I would try to slow things down and take in the moment more, not look so much to the future. And I would have married her sooner if I could!"
Jonathan and Jordan not only care deeply for their wives and families, they also have the love of Jesus that they want to share with others. This is shown dramatically in their video for "Help Me Help Someone," a song with lyrics that emphatically draw the listener's attention to the hurting people around them.
"I found 'Help Me Help Someone' through a writer named Jimmy Yeary," Jordan recalls. "It was a song he wanted me to hear, because he thought it was just right for me. As soon as I heard it, I fell in love with the song and I knew I had to sing it! The song has challenged me to take my blinders off as I'm walking through life, and look around me, because there are so many people that need help and if I can possibly help them I want to and I am going to."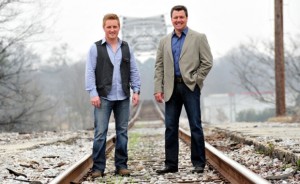 The Wilburns' determination to help others, and to focus attention on the hurting and the lost, is appreciated by their friends in the Gospel music industry. "I am very grateful to have had the opportunity to work with Wilburn and Wilburn," says Donna King of Vertical Sky. "What I learned about this father/son duo from day one is that they aren't trying to be conformed to an industry. They are striving to be conformed to what God desires ministry to look like. And their goal is to see lives transformed, from the audience they are singing to, to the children around the world who find sponsors through their efforts on behalf of the mission work of Compassion International. I am so blessed by the heart of Jonathan and Jordan who make up Wilburn and Wilburn."
Ken Grady of Gospel Music Today says, "We have had Jonathan and Jordan as guests on our show a couple of times and we love them and their music. The energy and joy that they have in person is reflected in their music and in their live performances. We also appreciate their excellent song selection for their recordings and live performances. They pay careful attention to the content and they have enough variety in style and approach to the songs to always keep things interesting."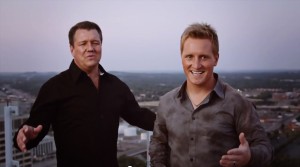 "Their sound is fresh with a traditional feel, sure to delight new and seasoned audiences alike," says Amanda Martin of Daywind. "Jonathan Wilburn, formally of Gold City, is well known in the world of Southern Gospel music. This venture with his son has made his talent shine even brighter. Jonathan, teamed with the smooth and solid vocals of his son Jordan, is truly a divine pairing. They have enjoyed radio success and nominations for multiple awards in Southern Gospel circles, proving their dedication and staying power. They not only share a love for the Lord and musical talents but they both have such fun-loving personalities that they are an absolute joy to work with. Daywind Music Group is honored to have them on our roster."
The Wilburns' unique personalities and diverse taste in music is shown in their concerts, where they will sing anything from "Let's All Go Down To The River," Jonathan's favorite song, to "(You've Never Seen) Anybody Like Jesus," their latest single from the Daywind project Here Comes Sunday. From Bluegrass to Country to songs from Jonathan's days with Gold City, there is never a dull moment. This variety helps to engage more listeners, building their audience base as they reach more people with the music of Wilburn and Wilburn. This is one of their goals, but not their only objective.
"Our main goal is to reach out to people with the hope that we have in Christ Jesus," says Jonathan. "…To be a light in a dark world." Wilburn says that a number one song wouldn't hurt their popularity, however: "We have set many goals as a father and son singing about The Father and The Son. We are like anyone else. We want to be the best that we can be spiritually and professionally. We want to continue putting out good music that honors the Lord."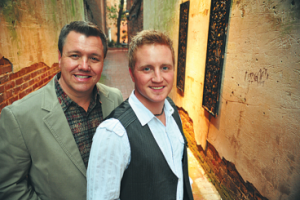 From their personal relationships to their professional lives, Wilburn and Wilburn are practical men who strive hard to do their best. They love their families, their work and their Lord. It's an all-year kind of love that shows in their compassion for others.
Jordan is usually the quieter one on stage, but we asked him to have the last word this time. "Don't put God in a little box, or make Him something He is not," says Jordan. "God can bless in many different ways, and it isn't always on Sunday morning at 11 o'clock in church. Give Him the opportunity to work in your life all day everyday!"
For more information and tour schedules visit the Wilburn and Wilburn website.
Written by Lorraine Walker
First published by SGN Scoops digital magazine in February 2015. For current issues of SGN Scoops, visit the Scoops website.