Southern Raised is a brother-sister quartet who known for their commitment to the Lord and their love of bluegrass music. You will find that Lindsey, Sarah, Emily, and Matt all enjoy what they do as they bring God's message through their unique mix of acoustic and classical music. They have been nominated for many different awards by the Singing News, the Diamond Awards, and the SPBGMA Midwest. The siblings have recently released their sixth album called Make A Difference.
"I grew up listening to classical music," says Lindsey Reith. "I remember how it all began. Our parents had heard a message about family ministries and they began to pray and seek God about what kind of ministry we could do for Him." Reith continues, "We all grew up playing an instrument. I played the piano, Sarah played the violin and Matt played the cello. We never thought we would go off of our front porch, so to speak, but God had different plans.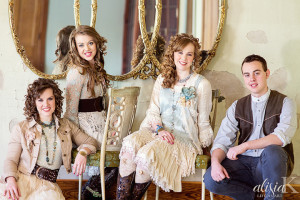 "Singing was not something we had always dreamed of; as I have said before we were classically trained, meaning we just played instruments." Reith laughs, "The first time we played, we had worked up an hour of instrumental compositions. I remember Mom telling us we were going to have to learn to sing… and we did!"
When asked about working aside with Kevin Williams and Grammy-award winning engineer Bill Vorndick, Reith says, "Working with Kevin was an amazing experience and a true honor. We met Kevin at the National Quartet Convention in 2012, in Louisville, Kentucky, and it was actually our last day. We decided to do some playing out in the lobby. Kevin saw the crowd and stopped by to listen also.
"Over the next year, we kept in touch with him. We were getting ready to record our sixth album and we asked him if he would be willing to produce it. God opened that door so that he could." Reith adds, "Kevin will keep you laughing! He prayed with us every morning that God would open our heart for His desire. Working with Bill Vorndick was also an amazing experience. He is a Grammy-award winning engineer, and is renowned for what he does. It was truly a dream come true working with both of them," says Reith.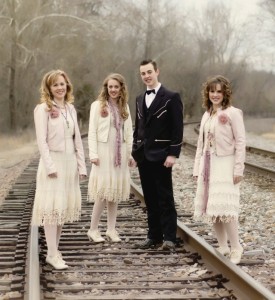 Following the release of this album, Southern Raised has been blessed with many accolades. They are nominated in the Top Five for the Diamond Awards' Bluegrass Artist Of The Year, Top Five for the New Mixed Group for the Singing News Fan Awards and Top Five for the New Artist Of The Year by the Front Porch Fellowship Gospel Awards. The group also has an astounding 31 SPBGMA MIDWEST Nominations.
Southern Raised was privileged to appear on the show Nashville Country Revival which has been aired on Daystar, Heartland and TCT. Recently the show was added to Hulu and will soon be launched on Amazon Prime, bringing the siblings' music to an even larger, more diverse audience. Still the siblings remain humble and true to their country roots.
"We live in Branson, Missouri, and we have a farm," Lindsey shares and laughs, "Some of our inspirations as singers would be Bach, Beethoven, and Mozart. Some of our favorite songs to perform are 'Good News From The Graveyard,' 'Make A Difference' and 'I'd Rather Have Jesus.'"
Southern Raised has a busy schedule and Reith adds that some of their favorite states to perform in include California, Indiana, West Virginia, and Virginia.
The next time Southern Raised is in your state, be sure to make the drive to hear this special sibling band. You won't be disappointed. For more information, visit their website at http://southernraisedbluegrass.com/