By Sheila Jackson, as told to Lorraine Walker
SGM Radio website has been running artist features, devotionals and guest blogs since 2004. In honor of our decade of service to the Christian artists we have featured, we are re-running past articles. Here is a feature from September of 2011 by Sheila Jackson of the Chapelaires.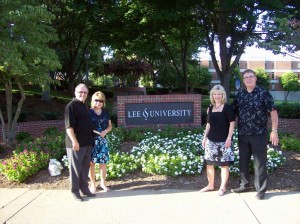 Every year for one week during the month of July, Lee University in Cleveland, Tennessee becomes a learning ground for gospel music enthusiasts from around the nation. The Steve Hurst School of Music invades the campus and scores of voices, encompassing all ages, backgrounds and musical ability, join together to improve and enhance their talent for the Lord. Celebrating the twentieth year of vocal enrichment in July 2011, the Steve Hurst School was not only home to southern gospel legends and novices alike, but it was also the destination for beloved Canadian quartet, The Chapelaires, from London, Ontario.
David Jackson began The Chapelaires as a male quartet in 1970. He married his lovely wife Sheila in 1974 and since that time the group has traveled part-time as a mixed quartet. Currently traveling with Dave and Sheila are Myrna Hand and Larry Steeves, who are cousins from the east coast of Canada. All of these vocalists have several years of musical experience on their resumes, but having attended the Steve Hurst School of Music in the past, they were excited to attend this 20th season of musical study, Steve Hurst style.
For those who may always have been interested in a weeklong music school, but never attended, and for those who have never heard of spending summer vacation with a school full of gospel music singers, this article is for you! Sheila Jackson kept a diary of the Chapelaires' academic adventure and we trust you will see both the heart of the Chapelaires and the mission of the School in this delightful account of the Canadians in Cleveland.
The Chapelaires attend Steve Hurst School of Music July 24 – 29th, 2011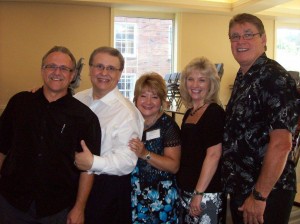 Over twenty years ago, our soprano singer Myrna Hand attended the Steve Hurst School of Music when it was in Nashville, Tennessee.  When we would get together for practice Myrna would try to explain some of the vocal tips to us.  In 2009, Dave and I were able to attend the school and we came away knowing we had to go back as a group, not just for the vocal technique training but for the spiritual encouragement offered at the school.  The entire group attended school for the first time in 2010 and again this year.
We started out mid-morning Saturday, July 23rd, 2011 and drove as far as Clinton, Tennessee. On Sunday morning we were able to attend the Batley Baptist Church, home of the Mackameys, and enjoyed a wonderful Sunday morning service with that church family.  Talk about Southern hospitality! They welcomed us into their service like family.  Unfortunately we did not get to see the Mackameys as they were on the road, but we met Peg's sister Carol and enjoyed chatting with her.  After the service we headed straight to Cleveland, Tennessee, excited about the coming week of school.When we arrived at Lee University we registered at the beautiful Dixon Center and met the Talleys who were setting up for the evening concert.  A group of approximately 15 volunteers were there to ensure everyone's questions were answered.  We were given our schedules for the week and our keys for our dorm.  The temperature that day was approximately 95 degrees Fahrenheit so we were thankful that all the dorms were air-conditioned!
We quickly unpacked, made up our bunk beds and headed off to the Deacon Jones Dining Hall for a quick supper before the 6:00 pm orientation.  At the orientation, Steve Hurst addressed the entire group and encouraged each one of us to do as much as we could do during the next week to improve our singing, However, he concluded with this encouragement: "If we do what we can do, then God does what only He can do."  We needed that encouragement because it looked like a heavy week ahead of us.
After the address from Steve, everyone headed to the Dixon Centre Auditorium for a concert with the Talleys. They were awesome! They sang with enthusiasm and challenged each one of the students with their messages in song. Toward the end of the concert they invited Brian Alvey, Lauren's new husband, to the stage to sing and they announced that Brian would be joining the Talleys in the future.  Of course, the audience was thrilled. When they sang 'Thou, Oh Lord, Art A Shield For Me', the crowd exploded in applause as that song is a choir favorite at the school.  After the concert everyone went over to the student center for pizza and good fellowship.
Monday morning stated early with 'Prayer and Share' at 7:30am with Dave and Jewell Shinault.  Dave is a pastor in Bristol, Tennessee and he and his wife are the prayer partners for everyone during the week.  Dave led the group each morning in a study of the mustard tree and emphasized how important it is to have the faith of a mustard seed, to put our roots down deep in the Lord so we will have the strength and wisdom we need to minister to people who come to hear us sing.
Dave and Jewell also made themselves available to anyone who needed to talk and share their prayer requests.  They were busy all week sharing the burdens of everyone who had a need.  They would also walk through the dorms and study rooms, praying for each student at the school.  One night when we got back to our dorms after the evening concert, everyone had a personal note stuck to their door from Dave and Jewell.  We could not imagine the week of school without those two precious prayer warriors who interceded on behalf of the student and teachers.
Chapel ran from 8:15 to 9:00 am every morning and all four schools attend: Vocal, Song writing, Piano and Sound School. Along with the teachers, there would be approximately 400 people in attendance.  Chapel started with a worship service that was led by someone different each day.  One morning John Rowsey, another morning Jason Waldroup, etc. and each morning the worship led us into the presence of God.  What an awesome way to start the day!
From there we would go to our group private lesson with a different teacher for each session.  During the private lessons we sang for our teacher and then worked on different techniques that would help us with our diction, pitch, vocal placement and presentation.  These lessons were invaluable and each teacher seemed to concentrate on a different area.  We were so excited when we heard Steve say that they had prayed over each group and asked God what teachers would be best for each individual group.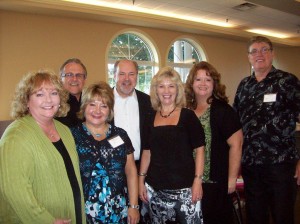 Our teachers were amazing and each one helped us with something different.  They did not criticize but encouraged us to strengthen different areas of our singing.  Each day we would have two private lessons as a group and then a performance class where we joined other groups and sang mini concerts.  These performance classes turned into chapel services on many occasions and often it was difficult to sing through the tears.  We will never forget the awesome times we had with the Little Family and the Joys.   We know God put us together for the week to encourage each other.
Every day we also attended lectures given by Steve Hurst who challenged us to see if we are ready to move to the next level.  Steve shared his heart at these sessions and told us he felt there is an urgency to share the gospel in song like never before.  He said he feels there will be more opportunity to share the gospel through song as we move closer to the coming of the Lord.  He constantly challenged us to be ready spiritually and vocally to share the hope we have in Christ with a needy world.
Debra Talley taught the group school about how to take control of the stage and what to do when the unexpected happens, like power and equipment failures.  Debra taught about what is needed to make a song come alive.  We learned how important it is to interpret the song, not just sing it.  Steve Hurst taught breathing techniques and the importance of good posture. Gary Casto from Tribute taught group management classes that covered everything from how to advertise and how to pay copyrights, to what know before you accept a booking.
Steve Hurst and his mother Mary taught a class on nutrition that was extremely interesting.  We learned what not to eat or drink before a concert and we realized our bus was making too many stops at Tim Horton's prior to a concert.  Who would have thought caffeine was not a good pre- concert staple!!
Dinner was served between 4:30 to 5:30pm and then the solo vocal school and the group vocal school students went to choir practice.  Choir was awesome.  We learned three songs, which we sang at Graduation on Friday.  Our favorite was 'Thou, Oh Lord' which the Talleys had performed on the first concert Sunday evening.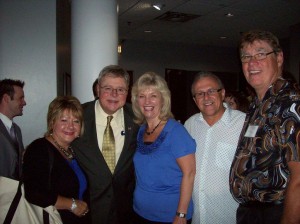 After choir practice each night we attended concerts given by the Talleys, Tribute Quartet, and Gold City.  One evening there was a pianorama with all the piano teachers: Josh Singletary, Jeff Stice, Larry Buchanan, Channing Eleton, Eric Ollis, Matthew Holt, and Stephen Butler.  On another evening the teachers of the school shared their memories of the past 20 years of school.  Lots of stories and lots of laughs were shared that evening as well as lots of good music.  The Monday evening concert was special for us since our friends the Heading Home Trio, Phil and Cindy Pugh and our group, the Chapelaires, sang prior to Tribute Quartet.  We were thrilled to be a part of that special evening.
The only challenges of the week were trying to get enough sleep to keep going from 7:00 am to midnight every day and sharing the dining hall with approximately 1200 high school students who were also on the school grounds for summer camp.  The Steve Hurst School was allowed into the dining room 30 minutes early and believe me, we took advantage of that quiet time to get our food before the enthusiastic campers exploded into the dining hall.  Oh, to be young again!
On the other hand it was great to see so many young people there with their leaders carrying their Bibles and know that they were being taught the truths of God's love.  The campus is huge so the only time we came together was in the dining hall and although they had a lot more energy than we did, we loved seeing them because it was exciting to see teens excited about their faith.
The spiritual highlight of the week was when all the schools came together on Friday for our communion service led by Pastor Dave Shinault.  It was a time of spiritual renewal and re-dedication for each one of us.  We knew that if our hearts were not right with the Lord, He would not be able to bless our ministry. The need to give Jesus every part of our lives was emphasized and we were challenged to put Jesus first in everything we do.  All the vocal techniques were important but not nearly as important as having a heart that is right with the Lord.  We came away from that service wanting to make sure that Jesus was Lord of everything we do.
We cannot begin to tell you what an impact this week has had on each one of us.  The vocal techniques and tips that we learned were great but the spiritual encouragement was the highlight for us.  We know if we ever have a concern or a need in our lives, Steve Hurst, Dave and Jewell Shinault and our teachers are of the first people we will contact to share our hearts.  We have made precious friends who will always be a part of our lives.
We would encourage everyone to attend the Steve Hurst School of Music.  It is highly renowned for vocal training but also highly regarded as a piano, song writing and sound school.  If you attend you will be surrounded by a group of people who love you and who want the very best for you and your ministry.
Next year we are hoping to bring Steve Hurst to Ontario, Canada for a three day weekend event where he will share his vocal training and spiritual encouragement with Canadians who are not able to travel to Tennessee for the entire week of school.  Steve has been such a blessing to us, we want to share this blessing with many of our Canadian friends.
I close with the statement Steve made on the first day of school: If we do everything we can….God will do what only HE can!
Our thanks to Dave and Sheila Jackson, Myrna Hand and Larry Steeves for allowing SGM Radio to be a part of your Tennessee singing school experience!
For more information on the ministry of The Chapelaires, click on to: http://www.chapelaires.com/The_Chapelaires/Home.html
To read more about the Steve Hurst School of Music, head to: http://www.stevehurstschoolofmusic.com/