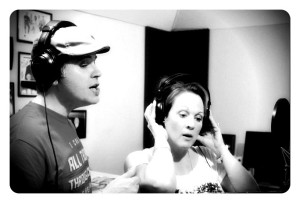 From B
Yvonne and I have felt a calling from God to help/mentor, challenge and encourage young couples and families. We believe that it is the goal for our ministry.
Early this year I contacted James Rainey (multi-talented piano player for The Singing Americans, Greenes, Melody Masters, Stamps, etc) about recording a CD to have available for the dates that Yvonne and I do during Soul'd Out's vacation.
We were able to secure a session date and started working toward that end. Originally it was going to be a selection of songs that I was going to sing. Then the more we talked, prayed and discussed it, we felt that this recording should be songs that are focused on marriage, love and family. And that Yvonne should also lend her voice to the music.
I wanted her to be as comfortable as possible because she has never been behind the mic in a recording studio. She has been in the "other side of the glass" while I recorded many CD's for The Kingsmen and Soul'd Out, but never behind the mic. It's one thing to sing along with your favorite artist as you drive down the road, but it's another thing to have to create the music yourself.
I have recorded over 66 albums in my 31 years of gospel music, along with that, I've had to learn and re-learn certain things. I've had great teachers and producers and I've experienced NOT so great teachers and producers. Some were harsh and I felt very defeated after their session and I didn't want Yvonne's first recording experience to be like that.
She doesn't understand certain musical terms that I've known and used for the past 30 years. I wanted to speak and communicate to her in words and expressions that she'd understand.
I had to speak HER language.
Yvonne has been in retail for 25 years, managed multi million dollar businesses and if I were to walk in her Store, I'd hear phrases and numbers being thrown out that I'd have NO CLUE what was being communicated. In that situation, she would have to speak to me in MY language.
Being honest, Yvonne is extremely intelligent and there are times when we are discussing an issue when I have asked "Honey, can you cut that thought in half so I can process it?"
She smiles and re-words her thought for my shallow mind! Haha.
From Y:
This month we've done a lot of traveling. That's not unusual for our family but June has sure been busy. One of my favorite things this month was a first for me…. the recording studio. Yikes!!!! You see I am a car singer…. I remember riding in the car with Bryan early in our relationship and thinking he prolly wishes I would just be quiet. I eventually decided he'd get over it. I was going to sing regardless of whether I was singing the wrong part or if I switched positions through the song. You see, I don't read music, know who's singing the melody or what key is which in comparison with another. I have been around the process so much that I have learned a lot. Bryan has taught me how to listen. I can hear things now that I couldn't at one time. I still just sing out of emotion or expression. Bryan and I have had moments in time "marked" by music. In our world music equals emotion. It can equal healing and love.
I had a bit of anxiety about it going into that day. I have been in the studio for many albums being recorded over the years. I know what a pro my husband is… and I also know that he can run outta patience during the process. I figured it was just like having horrid stage fright and agreeing to speak at women's events last year. If God asks you to do it… then you do it. He will take care of the rest.
So, we landed in town and James & Laura Rainey took us straight to lunch. I was kinda in the …. "Let's get this Rollin" mode. In the end, that was the best thing that could have happened. We talked, laughed and got to know each other. That put my heart at ease. We headed to the studio and Bryan flew through the first song in one take. OMG! Then he laid down harmony parts & now I was up. So… off came my shoes (if you know me- you get that). Bryan stayed in there with me and had his hand on my back. After the first part of the first verse… I literally bent in half trying to breathe and laughing at the same time. Bryan & James both were asking if I was okay… if I could breathe?? Then I told them just to give me one second because I had never done that before in my life! They both busted out laughing because to both of them this was just another day at the office. To me…, it was madness waiting to happen! We picked up and kept rolling through the afternoon…. and then on after dinner until around midnight.
That entire day was magical. I know that sounds a little dramatic probably but my soul needed that day. It was a day I fell in love with my husband all over again. It was a day I felt surrounded by The Lord, laughter & love. I needed my husband to be gentle with me- he was. I needed my husband to be patient with me – he was. I needed my husband to teach and help me- he did. Most important is he helped explain and articulate to me in "my language". He talked to me in verbiage he knew my mind would understand. This was key. When you are a team, you have to view things from your partner's angle and adjust accordingly to help any process work smoothly. In our home, we call this leveraging our strengths.
How do you leverage your strengths you might ask? Here is one example;
Our family takes trips ALOT. On our Disney trip, Jake and I were the navigators for all of us. I used my phone app & Jake used a map. The two of us are planners. Our minds work alike and it feels like we have shorthand between us. We are problem solvers and organizers by nature. It was the BEST time! The success laid a lot on Bryan and Bailey. The two of them took the backseat on this issue. They had their own responsibilities during our trip. A lot of people would not do that. It's giving up control and admitting that another person has this or that strength and its better for the team if they do it. In the case of our studio time, Bryan obviously possesses the strength. So, I took the backseat and let him lead the way.
One key to any team's success is communication. Learning to communicate in a way the other team members understand easily. In the studio, Bryan would take his cues from me as to if I was understanding something or did he need to explain it differently. In one situation where he could tell I was getting frustrated about an ending note, he used his shorthand with James. He asked James to take all the harmony parts out of the mix because I was hearing a higher harmony note. I was landing on that note instead of my own note. Next run through was a success.
My challenge to you is asking yourself a question. Do you and your spouse or family approach everything as a team? Do you evaluate who has the "strength" to get it done? Do you both have a divide and conquer mentality? I'm not saying one person does it all. In any process there are pieces that everyone can do to participate.
Do you communicate in a way the other person understands?
From Both:
Respectful communication in any relationship is vital. We (as a couple) do our best to communicate clearly to each other because of our love, respect and for the value of our marriage.
The greatest example of "speaking their language" was Jesus. He spoke in parables for His disciples and the crowds to understand.
Matthew 13:34 "Jesus always used stories and illustrations like these when speaking to the crowds. In fact, he never spoke to them without using such parables."
Are you speaking your spouse's language? We must discover the language that our spouse best understands and responds to and speak to them that way.
When you "speak" to your spouse, does your spouse feel belittled or beloved? We should never "talk down" to our spouse. Treat them with respect and realize that the way you communicate with your spouse is vital.
Ask God for help. Pray specifically for God to show you how to discover and nurture your spouse's language.
Ask your spouse for help. Have that conversation with your mate. Ask them to help you "know them better." Show them that you do care for the strength of your marriage and are willing to re-learn how to communicate better.
Your marriage, your relationship is worth it.
The Hutson's
Rescue Me Ministries2014