"It is the function of art to renew our perception. What we are familiar with we cease to see. The writer shakes up the familiar scene, and, as if by magic, we see a new meaning in it." (von Goethe)
Johann Wolfgang von Goethe was a gifted playwriter, novelist, poet, statesman, scientist, and philosopher. But above all these marvelous titles he was an amazing thinker! Listen to what his quote says; It is the function (why it's here, and how it's supposed to work) ,  he then  continued saying, 'that it's supposed to renew our perception'.  Speaking of such! A lot of the music cranked out in the music scene is nothing more than the same old same old….it really is. Music in general is almost reduced to wall of sound, with less melody and more bpm's (beats per minute), sucked vacuum by the lack of content.  But thank God for beautiful music and wonderful crafty wordsmiths! "Beautiful music is the art of the prophets that can calm the agitations of the soul; it is one of the most magnificent and delightful presents God has given us," said Martin Luther!
Thank God for Destiny Rambo McGuire, daughter of Reba Rambo McGuire and Dony McGuire, who is not only a lovely, and gifted young lady, but a stunning, ravishing young woman who possesses a rare kind of elegance. This young lady is the grand-daughter of the late and legendary Dottie Rambo, and never was there anyone that was such a worthy and fitting heir. You'll hear people describing the human voice like an instrument, and Destiny sure has a fine instrument!  In short, she's got it all! Beautiful as fine china,a poetic writer, a nomad, mysterious, and what a voice!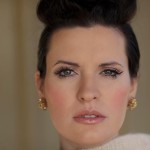 Her latest album entitled "Journal of a Songstress" is nothing short of breathtaking! It opens with a Donna Summer disco sounding song and I am transported to the old couch at my folks home, where I'm watching an episode of 'Love Boat". First song on the album is entitled "He Gave Me Music", it's full of wah-wah riffs on a guitar, strings, brass,slap bass and a disco beat. Very uplifting, and I love the unexpected opening of this album. Unexpected? Yes because the album art suggests anything but this, that's why this is a good choice!
Second on the album is "Letters to Cinderella" which features Nick Britt singing harmony on the choruses. Nick Britt and Destiny in duet sound just as good as Leslie Philips and Paul Smith did on "Make My Heart Your Own". Don't know who wrote this song (I hate writing reviews without credits) but it's a superb lyric. Musically it would fit a Disney movie very well and if there's no script to fit these lyrics, somebody ought to start writing them. I'm lyrical about this song! The first definition of the word 'lyrical' is 'expressing deep personal emotion or observations' and the second is 'highly enthusiastic; rhapsodic'. If there was ever a 'bohemian rhapsody' this is it! Destiny is expressing deep personal emotion, and does so in a highly enthusiastic manner.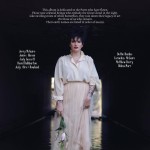 The third song has the melodious makings of an old Irish tune….at least that's the association I make. Maybe you'll hear Jamaica in it…. it doesn't make any difference really ,whatever or where ever….it sounds marvellous anyway.
Let me make this statement now, to the writers that contributed to this album, some of who are unbeknownst to me. Who ever you guys are, there's a minimum of two extra stars going be set in your crowns!!
"Garden of Incense" is the next track, that starts with a piano fly that sounds like a thing Dr. John would do..a great gritty track; Destiny's crystal clear, soft, yet piercing vocals and the floating background vocals seem out-of-place, against that groovy backdrop. Somehow this provides a harmonious contrast that boosts this song into the 'remarkable' section of your music library. It's been a while that I was so excited by a record.
The fourth song is also of world-class, magnificent perfect melody and everything comes together: two exceptional singers Destiny and Nicole Nordeman…wonderful singing, beautiful playing, superb lyrics…and that melody..did I mention that before? The song's entitled "He Starts With The End"…wow!
"I Just Came To Talk With You Lord" that Dottie Rambo wrote is next and the musicians are playing it with a such a believable jazz vibe. I could hear Norah Jones sing this song. Destiny is a world-class performer, a nightingale. This is soooo good; this familiar tune made my jaw drop, as if I heard it for the first time.
My daughter heard the next song on the album, and said "Hey, Dad's playing 'modern music'! 'Well I love you too darling!' No kidding. But that's what she said, and I was grinning from ear to ear, she suddenly thinks I'm cool. The song entitled "Upside Down" is besides stellar, modern indeed. Not because my daughter (eleven years old)  said so, but because this will always be considered modern…songs like this will never grow old.
Let me quickly skip to track  14 (there's a total of 15 songs on this album), now that we're talking about songs that will never get old. "He Will Provide" is a great standard from the gospel quartet's golden era! Written by Cornelius 'Mac' McGuire (Destiny's grandfather) and her father Dony. A song I first heard sung by the obscure Sabers Quartet years ago. This cut's musical setting is a piano and lush violins. Destiny is joined by Sonya Isaacs Yeary and Rebecca Isaacs Bowman; these three should record a complete album! Very moving rendition, and thank you, lovely Destiny for breathing new life into that classic, thanks for bringing it back to the party.
I suddenly feel incapable, unfit and  totally inadequate to continue like this. I'm continuing to struggle, trying to describe the splendor of this gem! Sorry y'all,  but I can't muster more superlatives without repeating myself! And in the days of short attention spans,  I'm in grave danger to alienate my audience (yeah right, as if)  by boring the living daylights out of you. So let me state that this album is a feast for the mind, body and soul.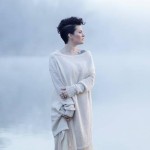 You won't be bored with this truly creative and daring album, I guarantee that, you may even quote me on that! I urge you all to buy this album on iTunes, and write the rest of the review, on the pages of your mind!  This is a one of the most amazing albums I heard in a long time. Masterfully produced album and my sincerest compliments to whomever was responsible for the production! This is truly an album of epic proportions, it's intimate, uplifting, thought-provoking. Just all around impressive!
Destiny Rambo McGuire's album is available through iTunes! Merry Christmas…and spread a little love around!
For more information on Destiny Rambo McGuire https://www.facebook.com/DestinyMakesMusic and http://rambomcguire.com/2013/12/destiny-rambo-mcguire-journal-of-a-songstress/
By Vintage1966 (Auke Bijlsma)Â http://vintage1966.me/2013/12/20/songstress/
Questions? Comments? Email Auke at duke-elegant@hotmail.com