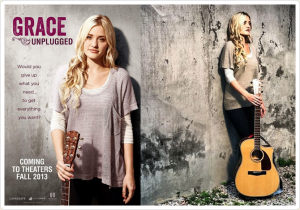 If you're like me, you're a movie lover. Going to a good movie in the theatre is therapeutic for me. It gives me a chance to relax, have a date night, or have family time together around a good flick. As a father of a growing child who has the unique ability to repeat anything and everything she hears, as many other children do, I'm constantly on the search for things we can watch together that will present a positive message, promote morals, and be clean and appropriate for the whole family from start to finish. That's why I'm so excited to tell you about a new movie coming in October from LIONSGATE Entertainment and Roadside Attractions that the whole family will want to gather around and watch together.
 
GRACE UNPLUGGED stars Amanda "A.J." Michalka, who plays a worship leader with her dad, Johnny, played by James Denton. Johnny is a former rock star who left his career behind to become the worship leader in their small church in Alabama. Grace longs for a shot at stardom, and against her family's wishes, she leaves for L.A. to make it big. Grace is faced with the decision to leave her faith in pursuit of her dream or to rediscover it, giving it a prodigal son type story. This is sure to be a winner with churches and youth groups, as it will have a chance to be viewed early by numerous youth pastors and Christian leaders prior to its October release. Another plus from this movie will be the film debut of Jamie-Grace, Christian musician and GRAMMY award winning singer/songwriter Chris Tomlin.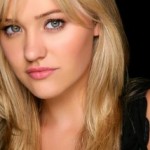 A.J. Michalka, accomplished actress and musician, told SGM Radio: "I really loved the depth of Grace's journey.  She's sweet and determined and tough and vulnerable, self-assured one minute and not so sure the next. There's so much there to work with as an actor, and to be able to sing on top of it was such a blessing. I really connected with Grace as a young woman." A.J. currently sings with her sister Aly in pop group 78violet.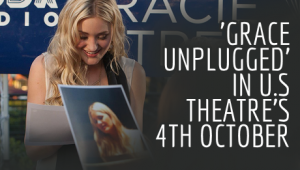 For the family-friendly aspect of this movie, as well as the Christian theme and emphasis on faith, I'll be happy to pull my wallet out and support this movie by taking my family to see it. It just happens to be an added bonus that the music lover in me gets to enjoy a music movie! In a day where entertainment is too often far from friendly to the "little eyes", it's good to know that there are companies that are striving to bring good entertainment our way that we can sit down and watch together. I hope you'll plan on making sure your schedule is clear for October 4th, as this Christ-honoring film hits theatres all over the country that night.
For more information on Grace Unplugged visit: http://www.imdb.com/title/tt2349460/
To learn more about A.J. Michalka: http://www.78violet.com/
*********************************************************************************************************************
SGM Radio is excited to announce a new writer for our website, Matt Baker. Matt is the baritone singer for Promise, based out of Knoxville, Tennessee. He makes his home in Lenoir, North Carolina, with his lovely wife, Ashley, and his daughter, Bella, and soon-to-be-born son, Bennett, who is due to arrive July 4.
Matt can be found on the web at http://www.promisetrio.com/Promise/Home.html
Twitter https://twitter.com/MattABaker
Facebook https://www.facebook.com/pages/Matt-Baker-Music/184905698229036
Please email Matt with your story suggestions at mattabaker425@yahoo.com