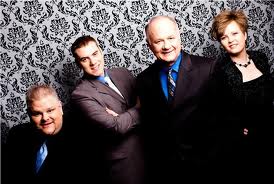 From the State of Oklahoma in the middle of Tornado Alley come the refreshing sounds of The Williamsons. This mixed quartet is creating its own storm-wind of revival with charting songs and a Dove Award nomination. The beautiful alto voice of Lisa Williamson highlights the group's traditional Gospel music with country overtones, along with a joyful attitude that permeates every song. Though the name may be new to some, The Williamsons have a long history in Southern Gospel. 
The Williamsons in their current form began in 1998 as The Homesteaders, taken from the slogan of Oklahoma, The 'Sooner' or 'Homesteader' State.  The group soon realized that there were secular groups with similar names and this created marketing issues. The quartet returned to the original family name of The Williamsons, a group begun by Donnie Williamson's parents in the late 1960's.
Donnie Williamson is the patriarch of the group and he describes the revisions The Williamsons have undergone since they hit the road in 1998. "The group has had a few changes over the years, mostly from growing pains," says Williamson. "We quickly began to get busier than some of the original members could keep up with and maintain their jobs. My sister Tennie, who was an original member, had to leave because of health and family reasons." The current line up consists of Donnie Williamson, his wife Lisa, bass singer Darin Hebert, and David Folenius who is the newest member with a tenure of two years with the group.
"We met Darin while he was still in high school," continues Williamson. Hebert at the time was billed as 'the lowest teenage bass singer in Gospel Music', according to his biography. "He couldn't sing much but he had tremendous passion. I knew he would be one of the finest some day and he proved me right. Our former lead singer had to move back to Tennessee and we received a call from David Folenius, with whom we share a mutual friend. He heard we needed a new lead singer and he contacted us. We are so glad he did." Folenius sang with regional groups since the age of 15 and worked with The Stamps Quartet, probably the most legendary name on his resume, before joining The Williamsons.
The Williamsons have a tight sound with a good blend and songs that showcase Gospel harmonies. Their latest project is entitled Saved, produced by the group with assistance from Roger Talley. "We love singing the Gospel message," Williamson shares. "Perhaps the song from this project that receives the best response from our audiences is one written by my wife titled 'Hosanna'. It tells of how Jesus rode into Jerusalem and was greeted with shouts of hosanna but then reminds us of how drastically things changed just a few days later. The high point of the song is when it tells us how He rose from the grave and will one day come again. Once more all His children will greet Him with shouts of 'Hosanna.' It is a powerful song with a powerful message. People get excited when reminded of the resurrection and second coming of our King!"
Donnie's wife Lisa Williamson came from a musical family, and is known for her vocal ability and her prolific songwriting. Lisa has written for many groups, and her song entitled 'I'm Ready To Go' as performed by The Kingsmen, reached number six on the Singing News national chart. Fellow alto and legendary Gospel artist Debra Talley is a fan of the group and of Lisa's vocals in particular. Talley says, "The Williamsons have been good friends to the Talleys and we always enjoy being in concert with them. Lisa Williamson is one of my favorite singers. You can tell she loves what she does. She has the ability to bring tenderness when the lyric calls for it, and when it's time to bring the power, she delivers. Her humble spirit is what draws people to her. She's the real deal." Talley adds, "Oh, the guys are good too. Donnie and the guys have a great heart for souls."
Gospel songwriter and comedian Dawn Doss, president of the Central Virginia Angel Hearts (CVAH) organization, agrees with Talley that The Williamsons are the real deal. She has promoted this group often and is a huge fan. "I love The Williamsons!" says Doss. "They first came to work with us at the 5th Annual Warren Smoot Memorial Benefit concert in August 2005, and quickly became a local fan favorite. They have a way of incorporating many musical styles into their program without straying too far from a strong Southern Gospel sound.  They are a mixed quartet but their overall blend still lends itself to convention-style music, in the style of the early Weatherfords and Speers."
Doss describes the group: "Donnie Williamson is a great emcee and manager, and will sit at the piano on occasion to change up the program, so it's not all about overshadowing tracks.  Lisa Williamson is one of the best female singers I have ever heard, and a gifted writer.  I have always thought her voice was extremely well suited to the industry sound that makes Southern Gospel unique. Darin Hebert is a great young talent, whose deep bass notes round out the rich harmony of the group. David Folenius has a strong vocal approach that compliments the presence of the Williamsons, yet his flare and finesse are not show-stealing or self-serving."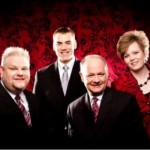 "They love the Lord, but don't go about with false modesty or gooey spirituality," continues Doss. "They live what they sing, and desire to see souls find the Lord, but they are real and down to earth, approachable and grateful for where the Lord has brought them.  They are also very generous and willing to sacrifice when necessary to be where the Lord leads them."
Doss decided to include the group in the CVAH concert series after a recommendation from Southern Gospel artist Rick Busby. The Williamsons left their mark in Virginia through Doss's organization and this opened the door for the group to appear in the Carolinas as well. From the Southern states across the nation to places like Missouri, the group's popularity is growing.
D.A. Callaway of Silver Dollar City events in Branson, Missouri, is one of the growing number of fans. "The Williamsons have been featured at Silver Dollar City's Southern Gospel Picnic," says Callaway. "They are quite professional in appearance and performance. This group has a clear respect for tradition and I admire that. Each member has merit vocally, but I must say that Lisa's alto singing is on a par with the world's best." Callaway continues, "The Williamsons are sincere and humble.  They are simply likeable, onstage and off, and you can't beat that."
Likable and sincere, The Williamsons have friends across the country who are ready to provide whatever the group might need when they are in town. In one instance, an invitation to Sunday dinner also helped to keep the group humble. "We were in Waldron, Arkansas and were going to sing at the Freedom Free Will Baptist Church," Donnie shares. "We had a friend there who we called Sis and were going to spend a little time at her house before going to the church. I hadn't been there in a long time but remembered about where she lived. We pulled up and I knocked on the door. A man answered and invited us in. I didn't recognize him but I didn't think much of it as I figured he was a friend of Sis. We exchanged small talk for a minute and I finally asked if they had anything to eat because I was starving. He said, very nicely, 'Well, son, I don't believe I know who you are!' I said, 'Oh, I'm sorry. We are friends of Sis Ward.' He replied, 'She lives next door.' Awkward!"
Awkward moments abound in the Gospel music industry, but so do times of blessing, growth and change. Traveling with his own group since 1998, and prior to that with his parents' group, Donnie Williamson has seen a lot of changes in the industry. "I think perhaps the most significant change has come with the digital age," says Williamson. "There are so many things we can do now with digital equipment, recording, social networking, etc. It is almost unbelievable how many people we can reach, pretty much instantly. It is changing the way we market everything, even the Gospel. SGN Scoops is a prime example of that. Groups can now be exposed to thousands without going through the normal channels if they are sharp enough and work hard enough."
"Another major change I have seen is the evolution of music styles in our churches. I am really glad to see the musical part of our church services being more of a worship experience. But I am saddened when I hear from a worship pastor that they no longer use Gospel music in their church. My feeling is that we should share the Gospel message through whatever means are available. However, I must say I am seeing Gospel music creep back into places where it has been absent far too long."
Donnie Williamson says his current favorite song is "The Love of God", a reflection of the older music that is sometimes left out of today's church repertoire. "I think it is one of the best written songs of the older generation. Interestingly, the words to the first verse were found written on the wall of a mental institution. In a day when we are so often looking for a catchy hook line, it is refreshing to hear a song that talks about God's love for us in a profound way. Having said all that I'm also a big fan of my wife's writing, songs like: 'I'm Ready to Go', 'He's Leading Me', 'Hosanna', and our latest radio release 'What I Could Have Been.'
With solid original songs, strong vocalists and great harmony, The Williamsons' appear to have a bright future in Gospel music. Their goals, however, include more than chart-topping songs. "Without sounding hokey, my goal is to see more lives changed than ever before," says Williamson. "We saw thousands come to Christ in the past year and want to see more this year."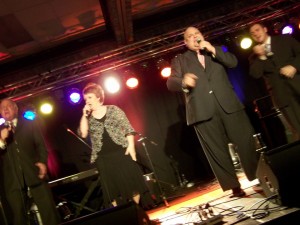 As group manager, Williamson has set many goals for the group, including increased audiences, larger venues and the addition of technology to their stage presentations. As well, there are specific spiritual goals he would like each member to strive for in the coming months. "I would like to see each of us have a closer personal relationship with God. We established a pattern of appointing one person to be in charge of praying for the meetings in the upcoming week and then that person would lead the group in a devotional during our trip. [Also], we are visiting with a dear friend about joining us and assisting with promotions. He has been a long-time pastor and my desire is for him to be our pastor."
"It is really hard to travel across the country, sing your heart out, and stay fed yourself," says Donnie Williamson. "When one is doing what we do it takes a special effort to keep that closeness with Him and to keep in His Word. My desire is for each of us to be so full of the love of God that it can't help but spill over onto others."
Audiences of The Williamsons have the pleasure of experiencing the 'spill over' of God's love from these ministers of God in their concerts and recorded music. As group members strive to keep a close, personal relationship with the God of the Universe, mighty things will continue to happen in their lives and the lives of those they touch. This will continue the wind-storm of revival from the Tornado Alley of Oklahoma to the world.
For More Information:
The Williamsons http://www.williamsonsmusic.com/
Debra Talley, The Talleys http://www.talleytrio.com/
Dawn Doss, Songwriter http://www.centralvaangelhearts.com/
DA Callaway, Silver Dollar City Events http://www.silverdollarcity.com/
Photographs courtesy of The Williamsons
First published September 2012 by SGN Scoops digital magazine http://www.sgnscoops.com
Current magazine: April 2012Â http://www.sgnscoops.com/2013/04/10/april-2013-editon-of-sgnscoops-magazine/
Written by Lorraine Walker