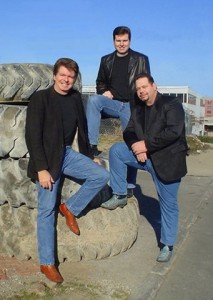 The year was 1993.  On March 28th, Ernie Couch and Revival (EC&R) stepped onto the stage of a packed Nashville auditorium filled to capacity. The attendance was, according to one pastor present, about 1100 rowdy, enthusiastic listeners who left no doubt that EC&R was off and running. This was the start of a musical journey of hundreds-of-thousands of miles and twenty years of life, presenting the good news through Gospel music coast-to-coast and around the globe. To celebrate this incredible journey, Ernie Couch and Revival has designated all of 2013, as the 20 Tour. 
The formation of EC&R did not happen overnight. In the late 1980's, both Ernie Couch and what he jokes is "my favorite son, Jason Couch" worked with the Plainsmen Quartet. In the early 1990's, Ernie and Jason discussed the possibilities of forming their own group. Over the following year they formulated what they wanted to incorporate within the group. One of the first elements agreed upon was that they would present live music. Due to the reality of economic boundaries the ongoing challenges of finding and keeping personnel and the lack of individual instrumental musical skills, many groups at the time had begun to use previously recorded background music. Ernie and Jason wanted the flexibility and spontaneity for the group which only live music could give.
The challenge with keeping musicians with the group began to occur quickly following that first incredible concert of 1993. Within a few brief months, the group's first bass singer got married and shortly thereafter left the group, along with the bass guitar player. The bass guitar position was quickly taken by Wayne Clemons from Hazel Green, Alabama, and Ernie and the guys continued on as a trio.
In 1994, Jason Froggy Venable filled the group's bass position. Jason Venable had grown up in Ernie's home church and when fellow member, Jake Hess, heard that the group was looking for a bass, he suggested Jason, feeling that he had potential. Ernie says, "Jake proved to be correct and with much work and practice on his part, and with a new name, Froggy became an excellent bass singer who would remain with the group for over a decade."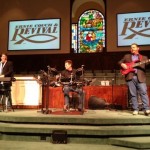 EC&R began looking for a label for their recordings. The group had laid down some demos in one of the many studios in Nashville area and at Warner Brothers Studios. In 1995 the group began pitching their demos to both gospel and secular labels. They became close a few times, but nothing really clicked, so EC&R decided to take a page out of the playbook that many other artists had used through the years. They decided to go ahead and record a full project, then shop the finished work.
In the fall of 1995, the group went to Ben Speer's Sweet Sixteen studio, on music row and recorded their first song for the new project. Ben Speer, known for his years with the famous Speer Family, engineered and co-produced the single, If the Lord Wasn't By My Side. The song was released to gospel radio stations nation-wide. The song proved to be the right one, at the right time for EC&R and single opened many doors for the group. In December, a performance video was shot from the single.  Jason's cousin, Chris Powell, played drums in the video.
Taking Flight was Ernie Couch and Revival's debut project. The group had previously recorded several demos at various Music Row studios. Other than "If The Lord Wasn't Walking By My Side", the balance of the songs were recorded in HIS Studio, at the former Conway Twitty complex in Hendersonville, TN.  In the early years, the group had determined that each project would embody three unique characteristics – inclusive song selections, an iconic special guest and creative graphics. To date, this is the most traditional southern gospel project the group has released.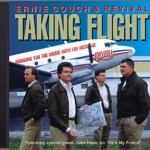 The debut project featured a blend of classic quartet songs interspersed with a broad variety of compositions written by Ernie Couch. The group recorded several cover songs made popular by such groups as the Blackwood Brothers, the Statesmen and the Happy Goodman Family. Among the songs written by Ernie is one of his earlier works, He'll Be There.  The Plainsmen Quartet had recorded that particular song in 1969. Over the course of five years, Ernie wrote the song, A Tree of Life For Me, which as Ernie explains, "turned out to be one of our most requested songs."
Ernie Crouch and Revival's special guest on Taking Flight was the legendary Jake Hess, who joined the group on He's My Friend. Hess attended church with most of the group members and was a mentor to and an encouragement in the group's formation.
Couch remembers this time with fondness and talks about the church he and his family attended at the time, along with Hess and several other music greats. "We joined Tusculum Hills Baptist Church around 1985. This was Jake Hess' home church and his son, Chris, was our minister of youth for twelve years. This was during the Masters Five era, and they would sing at the church from time-to-time. There were a lot of music related folks who were members or visited at Tusculum. The church built a new sanctuary in 1984 that you could squeeze a little over a thousand into."
Tusculum Hills was the site of the inaugural Ernie Couch and Revival concert in 1993. "The night of our first concert they packed it out with seats in the aisles," recalls Couch. "Due to Jake being a part of the Masters Five, on  occasion James Blackwood or J.D. Sumner would drop by for a service. J.D. and [Pastor] Doug Westmoreland were always bantering. J.D. came from a Pentecostal background, but when they built the new sanctuary J.D. insisted on paying for and installing the sound system for the new building. The Gatlin Brothers would show-up for special events. They worked as a gospel group in their teens and Steve Warren sang tenor with them. Elvis' step-mother attended there, and so there was a smattering of Elvis impersonators who would show up in costume! Through the years the Cathedrals, Statesmen, Singing Americans, Squire, Vestal and Howard and many others passed through the doors. We were blessed to be a part of that time, and I am so happy that Jason was able to grow-up in that rich gospel music environment."
Through the years, Ernie and the boys have made a point of having church friends and special guests such as Jake Hess on each of the group's major projects. Among these great names were talents such as James Blackwood and George Jones.  Also included in this amazing list were members of Petra, George Beverly Shea, Boots Randolph, Kenny Lovelace, Mary Wilson, Patti Page and James Earl Jones.
In honor of the group's twentieth anniversary, EC&R are working on an ambitious and fun project for release this spring, also aptly named 20 Tour, that will feature twenty songs and twenty special guests including such gifted folks as Willie Wynn, Ed Enoch, Ann Downing, Tommy Fairchild, Donnie Sumner, John Starnes, Gary S. Paxton, Bill Baize, John Berry and David Ball, plus ten more gifted artists.  Ernie added, "This is a busy time for us. We are also finishing up a new Christmas project, which we hope to have ready very soon."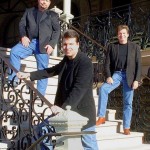 That is what is happening now with Ernie Couch and Revival.  It took many years of painstaking hard work and dedication to achieve the success they currently enjoy. A few years back, EC&R graced the stage of Northview Pentecostal Church in Peterborough Ontario, when Victory Promotions invited them up for a concert.  When I took the microphone, and announced, "Ladies and Gentlemen, please make welcome to the stage, Ernie Couch and Revival," Ernie and the boys came bounding on the stage and from the first song to the last, it was non-stop professional entertainment and ministry.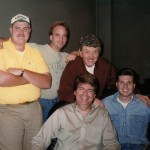 I do not take the word ministry lightly. After the concert was over, I saw Ernie talking to a woman in a secluded corner of the prayer room. Ernie had his Bible open and was really stressing a point, which he was driving home to the woman. To date, I have never seen another performer do that. It is something that is etched in my memory.
Nashville-based EC&R is undoubtedly one of the most exciting groups in gospel music today. Their energy is high in motion.  Their sound is reflective of the diverse musical heritage that has made Music City internationally famous, a unique blend of traditional, country and contemporary gospel music.  Ernie says, "It speaks to people of all ages and all walks of life."
Well folks, it is my extreme pleasure to recommend Ernie Couch and Revival to you!  They are a great bunch of guys, committed to their profession, and dedicated to the Lord.  The list of all EC and Revival's accomplishments, tributes and music is too vast to mention it all here.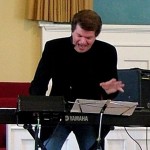 While speaking with Ernie, he encouraged our readers to visit EC&R's excellent web site at www.erniecouchandrevival.com. Couch says, "You will find many pictures along with product, biographical and historical information. Also you can follow the travels and activities of the group on Facebook."
Read more about Ernie Couch and Revivals 20 Tour and find out when they will be in concert near you: www.erniecouchandrevival.com
EC&R on Facebook: www.facebook.com/pages/Ernie-Couch-Revival/108038842582345
Contact Ernie Couch and Revival at:
1737 Carters Creek Pk
Columbia, TN. 38401
931-487-9835