"How beautiful upon the mountains are the feet of him that brings good tidings…" My paraphrase from Isaiah. 52:7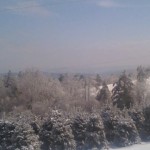 Having lived in the North Carolina Mountains, or foothills, all my life, there are things that have become very special to me as well as to others. Christmas is one season that we hold dear to our hearts. We celebrate in our hearts as Christians every day of the year.
Our cousins grow Christmas trees in Watauga and Ashe counties. In the town of West Jefferson, they celebrate Christmas in July.
We even sing Christmas songs in summer, thanks to Tim Greene (love you Brother Tim!). I'm sure if you see Tim, you can hear him singing 'Silent Night' on a hot summer day. It wasn't unusual to sing it at Westview Baptist in Boone in July or August. It was a blessing.
We love Christmas songs, hymns, and carols. They are part of us and part of who we are. It's part of our upbringing; that's 'mountain' for teaching.
One Christmas song that we love to sing which came from the Appalachian Mountains, is 'Go Tell It On the Mountain.' The chorus has been around for years and the verses were added by a professor of Latin and Greek named John Wolf, along with his brother Frederick in the early part of the 20th Century. They penned the verses to go with the chorus we know and sing today, as they were gathering, arranging, and promoting the music they found in the mountains. The song was published in 1907.
So when you hear Greater Vision or another Gospel artist sing your favorite Christmas song, give thanks to the Lord for the ones upon whose heart He placed the song. And don't worry about wishing Gerald Wolfe a Merry Christmas in August, chances are he's already been singing or working on Christmas songs for weeks.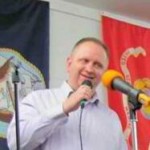 "Go tell it on the mountain, over the hills and everywhere,
Go tell it on the mountain that Jesus Christ is born.
While shepherds kept their watching o'er silent flocks by night,
Behold, throughout the heavens, there shone a holy light…"
Merry Christmas,
Stephen