By Sheila Jackson as told to Lorraine Walker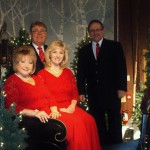 The Chapelaires are one of Ontario's favorite mixed groups and have been singing Southern Gospel for over four decades. Dave and Sheila Jackson, Myrna Hand and Larry Steeves travel the roads every weekend with their special brand of country/southern/inspirational music, sharing their genuine love for the Lord and His people in a warm, engaging manner that delights audiences. Their annual Christmas in the Country event is loved by hundreds and continues to grow even in this secular age of Holiday Trees and Season's Greetings. Sheila Jackson, alto for the group, shares how this tradition began. SGM Radio is pleased to share Christmas in Country from Canada's Chapelaires.
Christmas in the Country with the Chapelaires
The Chapelaires started hosting Christmas in the Country in 2008. Prior to that time they typically sang at a couple of Christmas banquets each year and sang only a few Christmas songs. When Larry Steeves joined the quartet he was emphatic that they needed to learn a complete Christmas repertoire and host their own Christmas concert that would take people back to their memories of Christmas in years past. They decided on the theme Christmas in the Country and knew immediately they wanted to host the event at Forest Cliff Camp in Forest, Ontario.
The Christian Children's camp in Forest had just built a beautiful dining lodge in the country on the shores of Lake Huron. The lodge accommodated up to 400 people and The Chapelaires knew the lodge would make a perfect setting for Christmas in the Country. 2011 is the fourth year for the event and due to increasing interest, the Chapelaires hosted four Christmas in the Country concerts at Forest this year with almost 1200 attending.
Guests came from all over Ontario and from all walks of life to celebrate this Holy season; even some friends from Michigan came to enjoy the evening. People were welcomed at the door and offered hot apple cider or hot chocolate. As they waited for the concert to start they listened to Christmas Carols played by a pianist and violinist.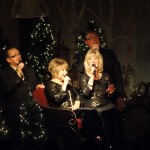 The entire concert was Christmas songs, some traditional carols, Southern Gospel Christmas songs and even some Christmas classics like White Christmas and Silver Bells.
Larry became Walter Brennan for part of the evening as he read the story of The Christmas Guest the way Walter would have read it.
The Chapelaires performed their concert at three different settings: Â a cabin, a fireplace and a sleigh surrounded by Christmas trees. The sleigh used for the concerts this year was built in 1890 and refurbished by a friend.
This year, their sets were offered to families and groups who wanted to take Christmas pictures. Dozens of people lined up to have their pictures taken in the beautiful Christmas settings. After the concert, the audience was treated to a variety of Christmas treats. Approximately 17 ladies bake their Christmas specialties for this event.
With so many Christmas event being colored by political correctness, this event is a breath of fresh air for those who want to celebrate the Reason for the Season. When the Chapelaires started Christmas in the Country in 2008, their motto was Keep Christ in Christmas and that continues to be their theme. People have responded in a very positive and enthusiastic manner to this challenge. The audience has made it very clear that they are disillusioned by the secular-ness of Christmas and they want to do everything they can to put Christ back where He belongs in Christmas. They leave the concerts wishing everyone a Merry Christmas. No one seems to use the terms Season's Greetings or Happy Holidays and the audience has grown from 180 the first year to 1200 four years later. The group is encouraged that people really do want to Keep Christ in Christmas and to celebrate the birth of Jesus.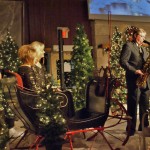 The Chapelaires want to welcome everyone to this celebration, not just those who can afford a ticket. There is no admission charge for the concerts, just donation boxes throughout the lodge. The audience gives generously and the expenses and more are met by the donations. Without a team of volunteers, the Chapelaires would never be able to host this event. Approximately 35 people helped decorate in addition to the 17 ladies who baked. The group expressed their thanks for the team of family and friends who come alongside them every year for this event. Needless to say, plans are already being made for next year's Christmas in the Country concerts.
Myrna Hand, the soprano singer for the Chapelaires, shared the following thoughts about Christmas: "The best thing about these concerts for me is the fact that we get to decorate the entire lodge the way we want to and it is usually over the top: beautiful! I also like the fact that these concerts are our 'Thank You' to our many friends who continually support us all year long with their love.
"In the London area where I'm from, it is very secular, and not much mention or demonstration of the real meaning of Christmas as not to offend others of different cultures," says Myrna. "At least, that is what we are supposed to believe. But I have noticed a change in the last year. I think a lot of people are tired of being politically correct and people are now starting to say 'Merry Christmas' again, and the ones that do, are saying it with boldness! I know for me, saying 'Merry Christmas' is as natural as breathing, and as long as God gives me breath, I will continue to say it each and every year"
For an exceptional vocalist who has been singing since a very young age, Myrna Hand has sung many Christmas carols over the years.  Hand says, "My favorite Christmas song is Silent Night. For me it is a song that always seems to quiet my spirit when I hear it. I can be at my busiest, and when I hear it, I always seem to stop what I'm doing, and listen in silence. There is such a reverence and holiness to the melody and lyrics."
During the busy holiday season, Myrna and her family find it hard to have family time. Like many young families, the pace only slows when Christmas is upon them. Then they can begin to enjoy time with each other."Our favorite family tradition at Christmas is after our Christmas Eve service, we come home and put some appetizers in the oven and open one gift, which is always our new Christmas pajamas!" Hand continues, "Then we curl up and watch a Christmas movie as a family. I think that is my favorite time of all. Our family is so busy all year long. All of us being together on that night is just so very special, especially now that our girls are growing up now and thinking ahead to their own futures. I know that we won't have that many more Christmas Eves to spend like that, so each one is very precious."
When Dave Jackson, bass singer for the group, was asked about his favorite Christmas memory, it was getting his very own Christmas cake from his grandmother. He always froze his cake and then brought it out to enjoy in July. It doesn't sound like he shared it with anyone! Larry Steeves, the lead singer for the group, enjoys everything Christmas and just can't get enough Christmas decorations, treats, music or presents. Sheila Jackson, Dave's wife, remembers all the family times together and treasures many memories of family Christmas gatherings in the past.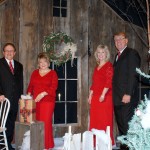 When asked about favorite Christmas traditions, the group all agreed on one: Christmas in the Country. This event has become their favorite tradition, a tradition they share with family and friends. They all agreed that they hope they will be able to host this event for years to come.
For more information on The Chapelaires, log on to: http://www.chapelaires.com/The_Chapelaires/Home.html
At SGM Radio, we hope you've enjoyed this glimpse into a Canadian Country Christmas and our visit with The Chapelaires. We extend our wishes to you and your's for a very Merry Christmas and a season filled with the celebration of the birth of Jesus Christ.