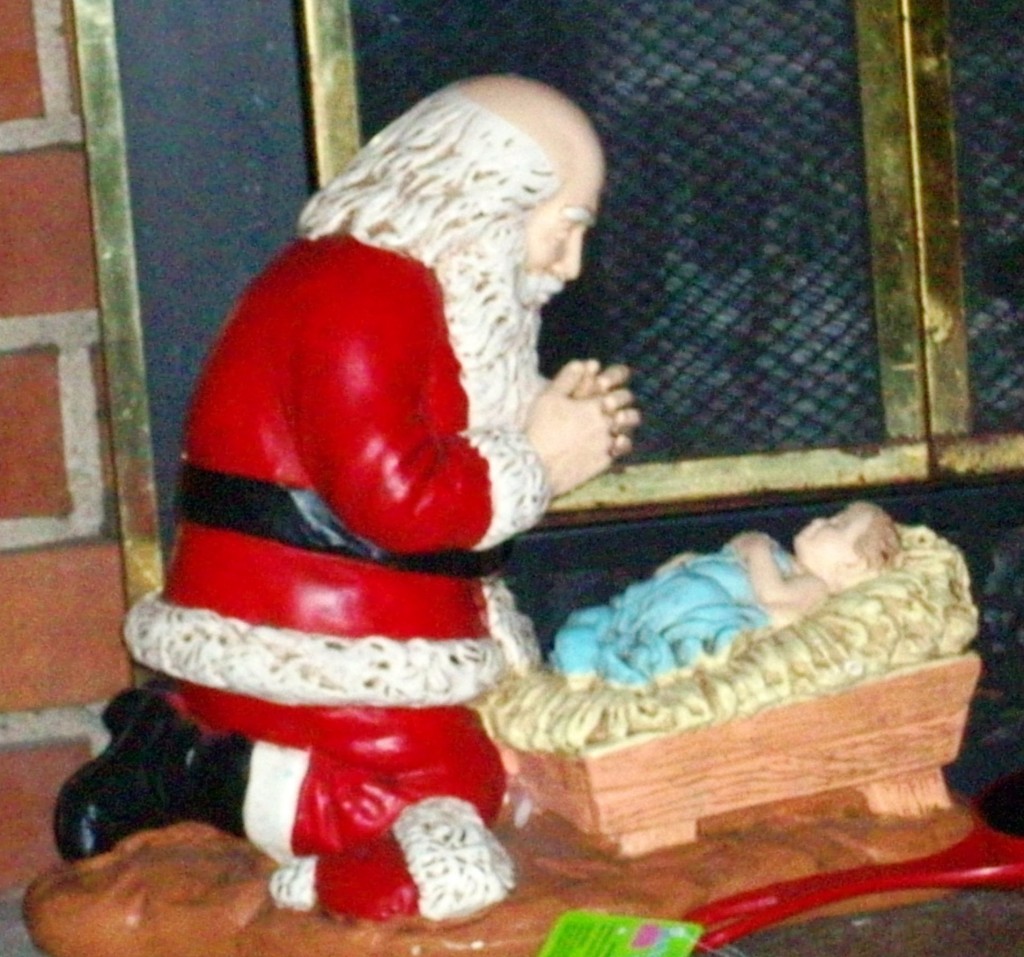 Quit arguing about Jesus' place in Christmas and simply focus on Him
Christmas hasn't just become commercial, as Linus laments in one of my favorite holiday programs. It's become controversial.
We think we are being well-meaning when we debate over Christmas versus X-mas versus Holiday (each of these terms refers back to Christ, by the way). We think we are being all "reason for the season" when we blame Santa for people's greed.  But all of the arguing and hand-wringing, just like all the commercial watching and excessive credit card using, only serve as distractions to what this season is.
I was at a Christmas party a few nights ago with some of the precious friends we've met through my husband's singing ministry. My kids were playing with "Miss Sue's" fabric Advent calendar, managing to scatter most of its 24 pieces around the house. At the end of the night, as we searched and gathered the pieces, Miss Sue, a prolific writer, told the small crowd of us left that the only piece still missing had been lost years ago: the calendar's Baby Jesus.
Being writers, we talked about the symbolism of that statement. Jesus has been lost from Christmas. Christmas Day is empty without Him. Maybe Jesus is lost so that we have to find Him again.
It all makes sense to me, and I can't write a bunch of flowery words around it because, well, it just is what it is.
I vowed to myself last Christmas that our family would not lose sight of the meaning of this season. We make it about so many things. And even as well meaning Christians, those things get in the way. Commercialism and secularism are no more harmful to the sacredness of Christmas than our own "religious" busyness…be it through decorating or card-writing or church-programming or even well-doing.
I am not in any way saying any of those things are bad. I guess I am suggesting that we choose what is most important to us and our family traditions, and not try to do and be everything that seems desirable.
My personal example is Christmas dinner. I started hosting this shortly after I was married. Traditionally in our family, Christmas Day dinner was always big: either a turkey or ham or roast with all the fixings, or lasagna, which is pretty much as good as it gets in an Italian family. Two years ago, we sat around on Christmas Day and dinner seemed like an afterthought. Granted, my two babies had stomach flu and I wasn't feeling great myself, but the motivation to serve something perfect had left me. So last year, I decided to make a nice breakfast, then "simply" throw together homemade pizza for dinner. The result? I still felt like I was in the kitchen all day, and for what.
This year, having just had a baby, my sister-in-law and brother are hosting Christmas dinner, and honestly…
We're trying to decide between take & bake pizza and take out Chinese food.
The dinner, which was so important to us before, just doesn't matter. For our family, what is important about Christmas Day? Going to church (our home church doesn't have a service that day, but we're going to find one somewhere). Giving to each other. Being together. Those are the simple goals, which we will carry out in ways specific to our family. Some of our kids are small, so we will sing Happy Birthday to Jesus and remind them why we have Christmas.
We will also allow them to be excited by Santa. (We teach our kids that Santa is a helper. He is generous, he loves kids, and he gives of himself at Christmas. We're good with that). We will drive around and look at Christmas lights and sing carols in the car. We will watch holiday movies and eat a lot of cookies.
And we will praise Jesus for giving us everything that we have.
If your season feels stressed, try saying no to things you do out of obligation, or as my Sunday School teacher taught recently, spending unnecessary time on unnecessary things (see: Christmas dinner). If your kids seem ungrateful or desensitized, show them how to give to others in need. If your Christmas day feels empty, stop trying to fill it with more fanciness or fun, and fill it instead with simple, significant meaning.
I don't pretend that I have perfect solutions. I can only say with transparency that my last few Christmas seasons, in spite of the incomparable joy of having my children, have been disappointing. I was focused on the wrong things. This year, I'm trying to make it right. Try what works best for you and your family, whatever that is. Just please, don't lose Jesus, because Christmas is indeed empty without Him.
And dear reader, if you have lost Jesus, just look around you. He is still there. He came into our world as a baby to show us all how to love, and His love is holy, perfect, and everlasting.