I felt quite inspired to write my monthly recipe column this morning. As the aroma of
rice pudding sprinkled with cinnamon and nutmeg wafted through the air, I eagerly sat
down to write out the latest recipe. I've been dabbling in aromatherapy a bit, so I looked
up the qualities for cinnamon and nutmeg. It was hardly surprising to read that cinnamon
is known to reduce stress and increase alertness. And nutmeg can aid digestion, while
also being rejuvenating, uplifting, and energizing.
And so I add Rice Pudding to the list of recipes to share. Those who patronized The New
Deli back in the eighties may remember it well. We made batches and batches of rice
pudding weekly; several customers stopped by specifically for that. After all, with the
brown rice and honey-sweetened custard it was a healthy option for anyone needing a
snack or a breakfast on the run. A friend encouraged me to make bread pudding, but I
couldn't bring myself to do it. Bread is already a treat for me, in that it's more processed
than whole grains. If I use brown rice in a dessert instead, I can tell myself that at least
I'm getting more whole foods in my diet!
Ready-to-serve, vacuum-sealed packages of brown rice (found at specialty grocery
stores) make it especially easy to prepare this dessert. I'm too frugal for that though, since
I can get a lot of mileage out of a pot of brown rice that I've cooked myself. The ready-to-
serve packs are convenient, but if you're on a budget, cooking your own whole grain rice
makes more sense. I'll cook up a larger pot of rice, using some of it for that night's dinner,
and still have some leftover for rice pudding in the morning. If there's more than enough
rice left over, it freezes quite well too.
As we celebrate The New Deli's 25th anniversary (we officially opened in November,
1985), it's been fun to look back at some of the fare from our older menu. Back then, we
would deliver New Deli products to some thirty health food stores in the Bay Area. We
made mega-quantities of certain foods to supply a need. It's no wonder we got the process
down! For awhile, we would scald the milk for the custard the old-fashioned way, in a
pot on the stove. We tried not to let the milk boil over and create a big mess; finally I
realized I could microwave it for a certain length of time. Microwave models may differ
in power, so cooking times may vary by a few seconds, but you can get it down to a
science. It's nice, not having to watch that pot! And it's always good to have a somewhat
healthy dessert option, that's not too complicated.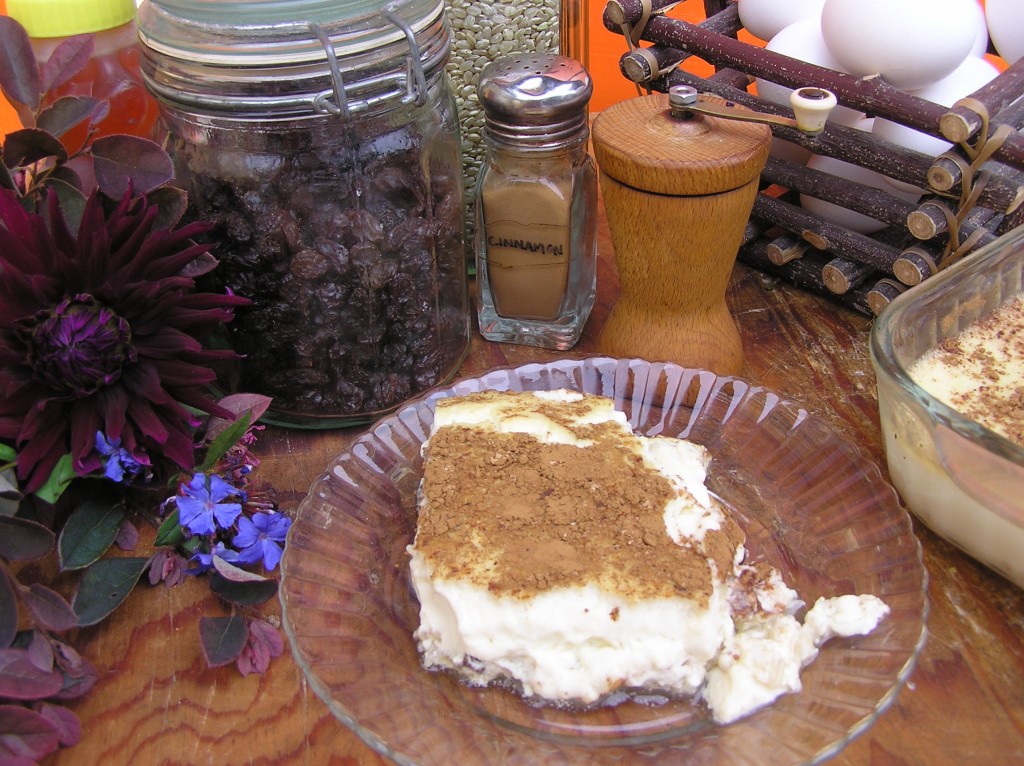 Rice Pudding
This is a healthy option for dessert; it even fits the bill for breakfast, with whole grain brown rice and a custard egg filling, lightly sweetened with honey. Leftover rice from a previous meal can be used; white rice can also be substituted. Makes 8 servings.
Ingredients
• 5 c. milk (your choice whether low-fat or regular)
• Approx. 11/2 c. cooked brown rice
• 1/2 c. (1 or 2 handfuls) raisins
• 2/3 c. honey • 8 eggs
• 1 TBS. vanilla
• 1 tsp. salt • Cinnamon • Nutmeg
Scald (or microwave for 10 min. or so), just until milk gets slightly foamy: > 5 c. milk
(low-fat or regular)
Prepare pan by sprinkling cooked rice and raisins over bottom of 12 x 8 " pan: >
approx. 1 1/2 c. cooked brown rice > 1/2 c. raisins
To measure the honey, try oiling the measuring cup first (it will slip right out). In a
mixing bowl, stir well until blended: > 2/3 c. honey > 8 eggs > 1 TBS. vanilla > 1 tsp.
salt
Add scalded milk to the bowl, blending until smooth. Pour over the pan of rice and
raisins. Sprinkle with nutmeg and cinnamon. Bake in a larger pan filled halfway up w/
water, at 350 degrees for 35 minutes. Serve warm or cold.
~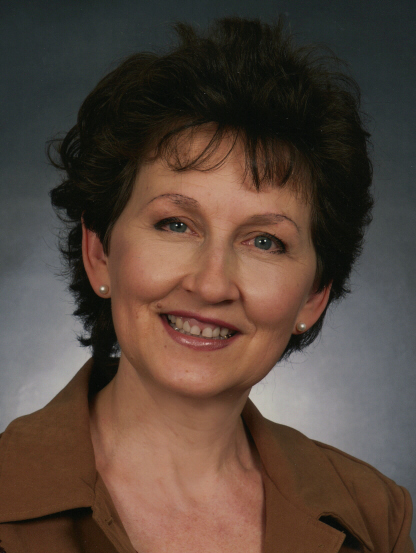 Jennifer Cote, with husband Tom, opened The New Deli in Pinole, CA in 1985. Her
cookbook, "From the Land of Milk and Honey", is available at the shop, and online. More
recipes, plus a lunch and catering menu, can be found at thenewdeli.com. Comments,
questions? Email Jennifer at thenewdeli@hotmail.com.