I am behind on getting my article done this month for several reasons. One of which was my complete inability to come up with a topic. While I was explaining this to my editor I realized what I needed to write about. Funny how some things can be painfully obvious right up until the moment that you have your "epiphany."
The last several months have been filled with what seems to be a constant barrage of problems, dilemmas and moments of desperation for my family and myself. It seems that as soon as one trial begins to resolve or die down, another is right there to take its place. I know I am far from the only person in this situation.
They also seemed to come in every form, family, emotional, financial and so on. It seemed as though no aspect of life was untouchable and that no matter how hard I prayed for peace or resolution the answers just were not coming.
Through all of this time we continued traveling and singing, spreading the gospel and the telling people about the God that has the power to do anything. I would stand night after night introducing our song "This Storm," sharing about the times in the past when God had brought us through a trial. How we had learned something from the battle. And how when we ask him, the Lord will never let a storm go to waste. Yet somehow I seemed to be missing my own point.
It wasn't until the first of the year that the Lord showed me the roll I was playing in making all of these trials more difficult. How I was working far too hard to make the situation "do His will," instead of praying and just letting Him work. He opened my eyes to the realization that in most of the things I was worrying over were totally out of my control and that in many cases my "valuable insights" were not even welcomed.
On new years day I was praying about some of these things and about the year to come. I was praying for release, renewal and restoration in the New Year. As I prayed I began to feel the Lord release many of the feelings of bondage that were holding me. I felt the weight of many burdens lift and in that instant I knew that I could begin again in 2010.
With family situations, I realized one can give over without giving up. That being concerned does not require being consumed. That concern and worry are two very different things. These simple truths brought a sense of release and peace
With the financial, well I am still working on that but I will tell you that since the first of the year more than EVER before we have learned that God is rarely early but He is ALWAYS on time. He has showed us over and over that He will supply our every need and never leave us wanting.
I wish I could have learned these lessons years ago. But then, God knows when we are ready to listen and learn. He knew that this was the time for us, for me. How amazing, exciting and encouraging knowing someone knows us so well.
I realize this may all sound very personal, and it is. I'm sharing these things in the hopes they might strike a chord for someone else. The most important part of any lesson for me is being able to share it with someone, with the hope that it will help them on their journey. Maybe even help them to avoid having to walk the same path.
Till next time, "keep looking up with a song in your heart."
~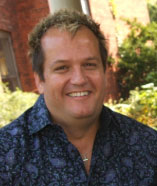 Jimmy McMillan has been traveling full time in gospel music for the last ten years. His career has included time with George Amon Webster and the Heartland Boys, the Wilburns and the Toney Brothers. Eight times on the National Quartet Convention, taping Gaither videos and five Jubilee at Sea cruises are just some highlights of his years of ministry. However the local church is his favorite place to minister. Up close and personal where you can see the Lord working in real time.
Jimmy is also a prolific songwriter and numerous gospel artists have recorded his songs. He is always looking for the next song idea in a sermon, a friendly conversation or even in special time of need. After all you have to face the storm to know just what the anchor holds.