By Christina Donohue-Williams
Hey everyone!!  This is Christina!!  I can officially say that it is SPRING!!  Now that just brightens my day and I hope it brightens yours!  It seems as though winter has been around twelve months this past year!  It's like just when I thought we were through with winter season…bam!!  I can tell you that it is still very chilly here, but the sun is shining so I am grateful!
If you are like me, spring also means…spring cleaning time! I was a step ahead this year, my spring cleaning started back in January…yes, I said January!  My mother and I decided that if we really want to enjoy the start of spring then we have to get the cleaning moving.  So my mother has been spring cleaning away.  I can tell you that I am forever grateful for my mother for all that she does for me!  At least she enjoys 'digging' in and doing deep cleaning.  I am talking about toothpicks in the corners to get all the little nooks and crannies…and I have a large home, but she loves doing it!  We have tried the 'cleaning' individuals, but they just don't 'dig' in and really clean like we want!  I always say that most things in life are like music; they all have a rhythm to them so you have to use that rhythm to get things done! Can you tell I am a singer and that I just love music?!!  I guarantee that if you try it, you will see how true it really is!  It will also help us to smile more!
My Cayden had his spring break in March, which really gets me because it is still so chilly in March!  My mother and I wanted to take him to Kentucky as we are from there and also have family down there, but it was just so cold!  Go figure!  Well, I can say that I am grateful it is April and it is getting warmer little by little!
I have an everyday life challenge that came my way that I thought I would share with you.  As we all know, it is almost Easter.  Our school has always had Good Friday off as it has been considered a holiday.  Can you believe that this year they requested to take it away and have our children go to school on that day and use it as a make-up day for all the days we have missed due to weather?!  I was floored and everyone knew it!  I am totally not in agreement with that and I think that it is completely wrong!  The teachers don't want to shorten the summer but to take away a Christian holiday is not the way to resolve the issue!  Sometimes I have to wonder what in the world people are thinking who are making these decisions.  They are obviously not taking all of us into consideration.
Along with that, it seems like our everyday lives get a little more difficult everyday trying to keep our God in our schools.  As I mentioned last month, Cayden's teacher is one of the very few who still incorporates God into her classroom, as she passed out Bibles for the children at Christmas time.  I pray that we have more teachers begin to stand firm as she has and as she continues to do!
Now I want to talk about what it means to me to be able to write about Everyday Life for sgmradio.com. About a year ago, God allowed my path to cross with one of the greatest and most brilliant individual that I have met and his name is Rob Patz.  Our paths crossed at a time that was God's timing, as I had been praying about writing for the longest time.  God knew that at that point, I was ready and He allowed this to happen.  It is one of the most amazing parts of my life to be able to express to others about our everyday lives and my everyday life.  As a Gospel singer myself, I really try to let people know through my column that my life is as busy and crazy as theirs!  Just because I sing for the Lord does not mean that my life is any easier than anyone elses!  In fact, at times I truly believe I go through more, as God wants me to use myself as a bridge for others; and for that I am forever grateful.
Rob has always encouraged me to continue to push forward no matter what I might be going through in my life.  He always tells me that 'you can do anything you want and you can reach your dreams'.  There are so many encouraging words that Rob has said to me that I could go on and on!  I want to say 'thank you' to Rob for giving me the opportunity to write for him, but most of all for praying about it and listening to God!  I am forever grateful for this opportunity.  Thank you Rob for following the paths that the Lord has made for you because if you wouldn't have, I would not have this amazing opportunity to write for the absolute best website ever!  Sgmradio.com is celebrating their 7th year and I am truly Blessed to be able to be a part of this amazing team!  Seven is God's number and this will be the year that many, many souls will be touched by what Rob is continuing to do to spread the Gospel!
It means so much to me to be able to reach out to others as it has always been a passion of mine.  If I touch one person and they are Blessed by reading my column, that is what it is all about.  I pray that through my own trials and tribulations, heartaches, tears, happiness, sadness and inspirations that I can help someone else.  When I write, it is from my heart and I am always praying to help someone else along this journey in life.  God asks all of us to help one another and that is all I want to do.  I pray that through my writing, someone will be Blessed, touched and find strength.  It is not through me as a person, it is God who has allowed me to write and I who writes it to help others.  I am not perfect; I am only a human being who has been given the opportunity to share my thoughts, trials, love, beliefs, everyday circumstances whether good or bad and my love for the Lord with others.  I pray the Lord continues to use me in a mighty way for His kingdom and for His glory! As I move forward with my writing, I pray that God touches each one of you and continues to Bless you abundantly!!
Again, thank you Rob for following your dreams and following the path the Lord prepared for you!  Thank you for allowing an everyday person like me to be a part of this amazing team of yours!
As we all color our Easter eggs, have our Easter egg hunts and gatherings, let us remember what Easter is truly about which is our Lord Jesus Christ who rose on the third day after his crucifixion on the Cross.  HE died for us and HE arose out of that grave for us!  It is unimaginable all that He went through for us.  The song that I wanted to share is called 'Rise Again' which touches my heart every time I hear it and sing it.  People truly love to hear this song, as it really touches the heart and soul as to what Jesus did for us.  I pray that when you read it you are Blessed as well!
~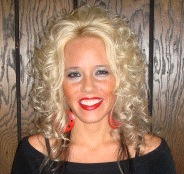 When I was a little girl, I had a pink and white bedroom set that had bedposts and I would use the posts as my microphone and sing for my brother; he was my first audience!  I took piano lessons for years (thank you mother!) and totally enjoyed it.  I look back now and it is amazing to see that even then, the Lord was preparing me.  Growing up in a Christian home, I was blessed to have a mother who prayed for me every day.  We were in church every time the doors were open and would sing our hearts out.  I know that somebody did some praying for me and it was my mother; my prayer warrior.
I have a very handsome, talented, smart and totally amazing son, Cayden.  He is seven years old and my little man!  He is a merit student at school (he has been throughout his entire school days)!  Cayden takes piano lessons weekly & will begin voice lessons shortly.   He is my little angel from heaven!  I have an awesome mother, who is my angel here on earth and one brother, Daniel, who lives in South Dakota with his two little girls !  God has continued to bless me throughout my days here on earth and what a journey!
I spent a few years singing with my parents at different churches and it was an awesome experience.  After that, I took my own paths (some of which should have been less traveled), but my mother never stopped praying for me!  I always knew the Lord had a purpose for me; that my calling was with Him, but I had to be patient.
I sang with another group that still included my parents for a few years; up until the time I met my husband.  We met at a Gospel show in August 2005 and have been singing together since!
Interesting facts about Christina (that's me!)
Favorite Color:Â  Pink
Favorite Food:Â  Lobster
Favorite Bible Verse (s):Â  Luke 23:33 and 23:33-43Â  (The Seven Last Sayings of Christ)
Favorite song(s): Still Holdin' On  and Through The Fire by Jason Crabb IF That Isn't Love by Elvis and I've Got Confidence by Elvis (this is a very old song about Job)!
Hobbies: Playing piano, antiques, reading and playing piano with my seven year old son!  He is so good on the piano! Oh and I watch a little baseball (I am totally not into sports, except I like watching baseball)