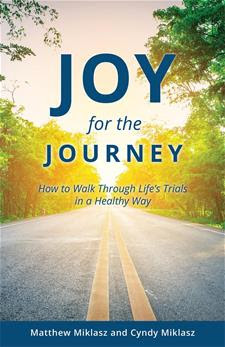 (Minneapolis, MN)— Over seven years ago, Pastor Matt Miklasz (pronounced MIC-LOZ) was diagnosed with a rare form of Leukemia which was followed by colorectal cancer and metastasis to the lung.  In the new book, "Joy for the Journey: How to Walk through Life's Trials in a Healthy Way," Miklasz, along with his wife, Cyndy, get open and honest about their various struggles that have also included a heart condition suffered by one of their children. Miklasz readily admits his faith has, at times, been tested.
"I am learning that getting to the place where I live with a deep peace often involves wrestling in prayer with the questions," says Pastor Miklasz.  "A gut-level 'How long, Lord?' prayer can sound anything but spiritual. I know Jesus will find me in those confusing, uneasy places, but I don't want to be there. The days I face the challenges created by the cancers and surgeries, I am finding it easier to talk the frustration through. God may choose to heal the outer afflictions or calm the inner me. Either is fine, as long as I am near to Him."
The couple chronicles their lowest points of despair and anguish, but have found that honest dialogues with each other and God are necessary.
"My prayers are honest," Pastor Miklasz continues. "I don't want a prayer life that is equivalent to texting God. I fear that is happening more often in this current generation. A deep spirituality and resolve are forfeited when we approach God glibly."
For Cyndy, the process of reliving intense and emotional moments was often difficult.
"I began thinking back to what I was feeling during some of worst moments," she says, "and sometimes it was overwhelming. But was also valuable to be able to look back and realize all that God has brought us through." 
As he continues to battle cancer, Miklasz has learned first-hand that even pastors have doubts and fears.
"Christians tend to feel ashamed when we have questions or doubts," he says. "We erroneously think that doubts denote a lack of faith. To ignore our questions is to choose to live with only casual brushes with God. God designed us for intimacy with Him, and questions can take us there. Indeed, questions draw us there."
About the authors:
Matthew Miklasz is a pastor and author of the book, "A Normal Guy." He studied theology through Trinity College of the Bible, and was ordained with the EFCA in 2003. He served on the District Board of Ministerial Standing, and coached other pastors through the Center of Excellence in Congregational Leadership. His wife of  27 years, Cyndy, has devoted her time and energy to raising their four children on their hobby farm in Minnesota. Visit www.mattnormalguy.com  for more information.