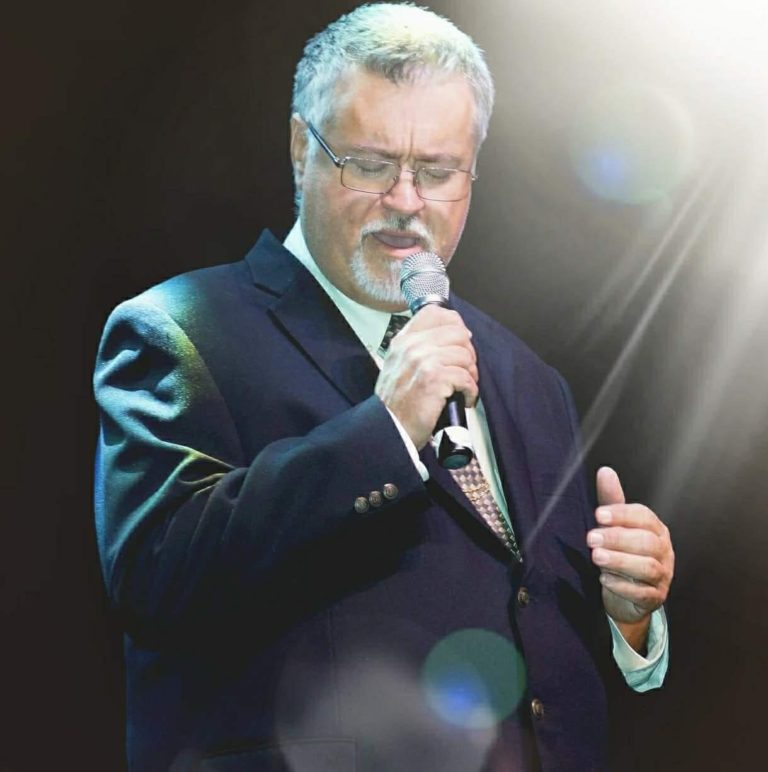 Welcome to another Fast Five. Today, we are pleased to introduce to you, singer/songwriter David Gresham, from Georgia. David's latest single, "Remember the Soldier," is getting a lot of airplay and showing up on top radio charts across the country.
Please meet: David Gresham.
FF: Tell us how and when your ministry began.
DG: At child birth I almost died, as the umbilical cord was choking me as I came into this world. I was bitten by a copper head snake at 10 and ended up in the hospital for over a week.
Satan tried to kill me, but God had a plan for my life. In 1997, my brother Steve who was one year older that me, was killed by a drunken driver in an automobile accident.
Then came 2014. My daughter Jennifer, who I loved deeply, passed away suddenly of a seizure. My "mother in love" passed away five weeks later.
Then I was on the operating table six times for kidney stones. I spent Christmas in the operating room. It was a very trying year. But between all of this I kept singing and preaching.
Then not long after that, my wife Lynn started getting sick and eventually had to retire from work. We thought it was fibromyalgia and athiritis. Then she started getting worse with her muscle movements. She began to fall a lot.
We went from a cane to a walker to a wheelchair and then to a power chair. Then to the hospital, where she was diagnosed with ALS. The next few months, my faith was tried severely. I just kept hanging on to God's hand.
No, I didn't feel like singing preaching or writing songs. And for the past five years, I was Associate Pastor at my church Christ Freedom church in Hiram, Georgia. I stepped down from that position to take care of her.
I postponed all my singings. I have always been able to work, go sing and preach, but not then. We were at Lynn's sister's house taking care of her. I felt like my world was caving in. Day after day was spent taking care of her.
I asked her, "What do you want me to do?" She said, "Keep on singing and preaching because that is your heart." I watched her lose nearly 90 pounds from March to Oct. because she couldn't swallow or hardly drink. All I could do was pray. I knew there were countless others praying for us.
Then we went to a hospice unit in Marietta, Georgia, where on Oct. 21, Lynn left us for her heavenly reward. The next day after her funeral which was on a Sunday, I preached and sang.
I have pushed harder than ever before to work for him. I am singing and preaching in every door God opens. I have more to go to heaven for, than ever before.
FF: At what age did you feel God calling you into ministry?
DG: At the age of 11, I gave my heart to God. At that time I began to play the flat top guitar. Then at 13, I began writing Southern gospel songs. (God has blessed me to write over 200 songs.) I always knew I would preach. But In 1976, I professed my calling to preach. Then in 1979, I formed a singing ministry. I have been singing and preaching ever since.
I was blessed to have made a live recording at TBN in Nashville, Tennessee. Several groups are singing my songs.
The last several years the Lord has increased the ministry in several ways. I have won many awards for singing and songwriting.
FF: Tell us about your radio single.
DG: The latest is the song, "Remember the Soldier." With the help of Charlie Sexton (engineer) and Matthew Lawson (he did all the music) and Glenda Wright (background vocals,) the song was recorded earlier this year. It was released on the Hey Y'all May compilation.
This past July 4, I was able to sing it in the Douglasville, Georgia, parade.
Being very patriotic allowed God to use me to write this song. I think about our young men and women dying and sacrificing so much for us.
I come from a family of soldiers. My father Robert Leon Gresham, and his two brothers, Johnny and Darrell Gresham, were all Sergeants in the Army. My Uncle Johnny won the purple heart.
My granddaughter Ashleigh Gresham Green joined the marines and married a marine.
I love this country. I believe we must honor those who gave so much, so we can have our freedom.
FF: Share your testimony with us.
DG: I shared most of my testimony earlier. To sum it all up, Â I sing preach and write music because I love the Lord and I love people. I want to share that to all. I want all who hear my songs to feel and see the story in the songs. I want to encourage others. I want my songs to bring hope to this troubled world.
FF: If our readers would like to book you or purchase product, how can they do that?
DG: Contact info:
David Gresham
davidgresh1@gmail.com
www.facebook.com/groups/davidgresham
Thank you David for sharing with our readers.
More From SGNScoops HERE