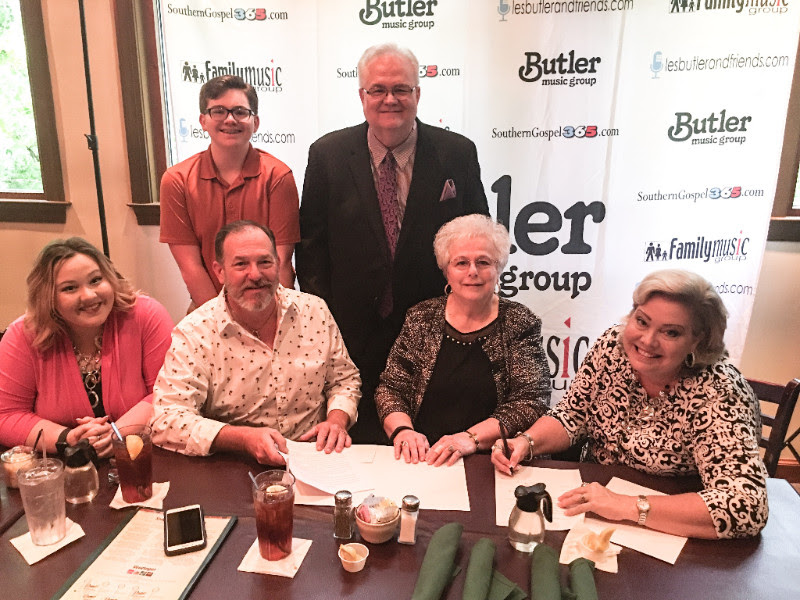 Nashville, TN (May 30th, 2018) Last year, Great Day announced that they would be changing their name to the Ferguson Family and since then they have been riding a surge of momentum. Adding to the excitement, industry leaders gathered with the Ferguson Family in Hendersonville, TN recently to celebrate the signing of a booking agreement with Rivergate Talent Agency.
"We are thrilled to partner with Bonnie White and Rivergate. They have always worked with the best artists in Southern Gospel and we are honored to be a part of their family," stated Bill Ferguson. Currently, Rivergate represents the Dixie Echoes, Troy Burns Family, Heirline, Gann Family and Christian comedian Trevor Thomas.
The Ferguson Family recently released a new album, Living For The Call, with Butler Music Group and their first single, "Livin For The Call" climbed the Singing News chart landing at #46. Butler Music Group is a consultant for the Ferguson Family.
"Bill, Brenda, Lisa and Steven truly desire to see lives impacted for Christ! They have been blessing people with their music for well over a decade but it's exciting to see God moving in their ministry in fresh and exciting ways," added Les Butler.
"Before our signatures every made it to a contract, Bonnie already had new dates on the schedule. That speaks volumes and we can't wait to minister where God opens the doors," added Bill Ferguson.
For more information on the Ferguson Family, go to www.fergusonfamilymusic.com.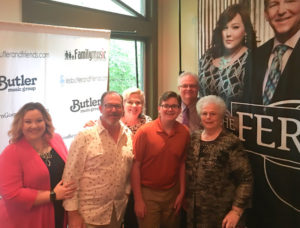 About Rivergate Talent Agency
Bonnie White opened the doors of Rivergate Talent Agency in 1993. She was formerly with another major booking agency for three years before starting with her own agency.
Born in Texas, Bonnie has lived in Nashville, Tennessee since 1987. Since entering the gospel music industry, Bonnie has made a lot of friends all over the world. Her down home friendly voice personifies her warm personality. She is always eager to work with churches, promoters, fairs, and other venues to fulfill talent needs at a reasonable price.
Bonnie's goal for Rivergate Talent Agency is to further the Gospel throughout the world with song through the ministry of Christian artists.
About Butler Music Group
Based in Nashville, Tennessee, Butler Music Group provides professional management and consulting services to Southern Gospel and Bluegrass artists including Dunaways, Heaven's Mountain Band, Williamson's, Old Time Preachers Quartet, Sacred Harmony, Coffmans, and Jason Davidson.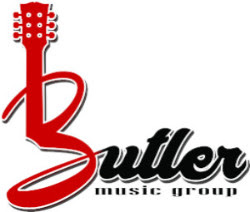 BMG subsidiary, Family Music Group, is the label and radio promotion division of BMG. Label artists include Dunaways, Williamsons, Old Time Preachers Qt and Jason Davidson. Radio Promotion artists include Canton Junction, David Phelps, Goodman Revival, Ivan Parker, Guy Penrod, Hagees, Jimmy Fortune, Oak Ridge Boys, Booth Brothers, Larry Gatlin, and many others.
Les Butler has been actively involved in Southern Gospel Music for 39 years as a musician, producer, manager, former publisher of the Singing News, and as a nationally syndicated radio host. Butler started Butler Music Group in 1978, and purchased Family Music Group in 2003. He is a past March of Dimes AIR award, as well as winner of the Paul Heil Broadcasting Award in 2011. Butler's syndicated radio show, Les Butler and Friends, is heard across America and abroad. Butler's playing and production credits include Palmetto State Quartet, Darryl Worley, Richard Sterban, Joe Mullins and the Radio Ramblers, Fairfield Four, Steeles, Dunaways, Crabb Family, Easter Brothers, Marksmen Quartet, Earl Scruggs, Bowling Family, Jimmy Fortune, Marty Raybon, Larry Gatlin and many more. Butler's publishing companies are Hurry-Up Publishing/BMI and Hush Jean/ASCAP. He continues to host a daily Southern and Bluegrass Gospel video blog at southerngospel365.com.
READ The latest PDF Version Of SGNScoops Magazine here.
Download The latest PDF Version Of SGNScoops Magazine HERE
Find SGNScoops Magazine On Facebook HERE
Listen Online To The Best In Todays Gospel Music HERE