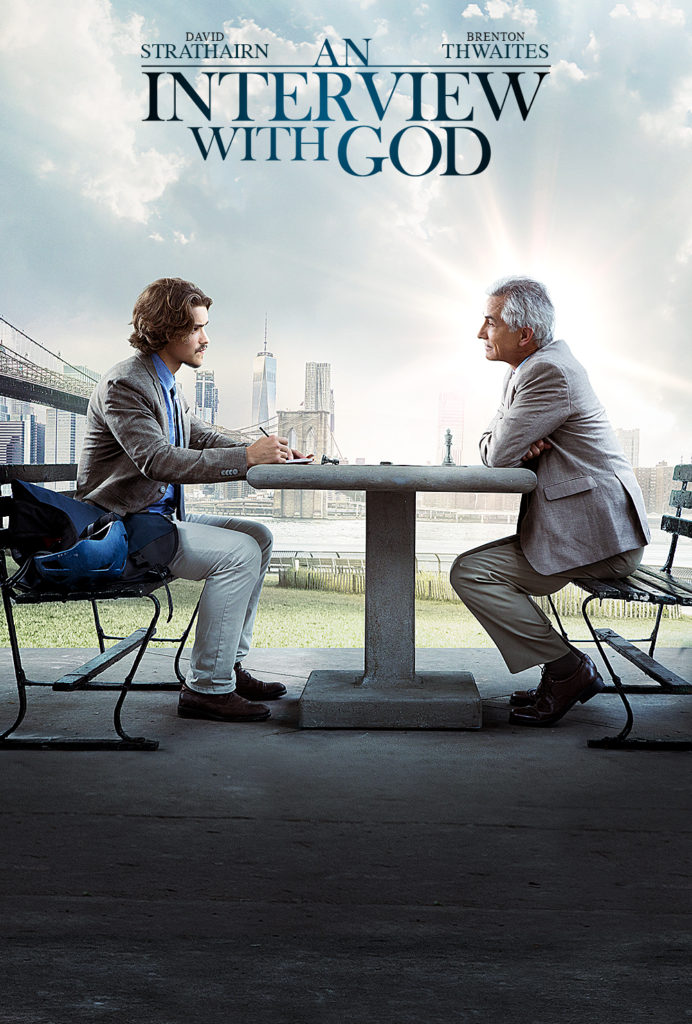 Oscar nominee David Strathairn and Brenton Thwaites lead cast in refreshing, honest faith-based film
LOS ANGELES, June 7, 2018 /Christian Newswire/ –  Most people would jump at the chance to interview God. What would you ask? This fall, Giving Films' and Astute Films' AN INTERVIEW WITH GOD will indulge viewers' natural curiosity while engaging their hearts and stirring their faith. AN INTERVIEW WITH GOD is a thought-provoking film presented by Fathom Events, in theaters for three consecutive nights only, August 20-22. Following the movie's conclusion, viewers will experience an engaging discussion based on the film's inspiring themes.
"Many of us have questions around life and faith, although we might be afraid to admit we have them. We are really excited to see what conversations this film sparks!" said Harrison Powell, VP of Development for Giving Films.
Covering the war in Afghanistan provided journalist Paul Asher with some of the best stories of his young career. But that endeavor ends up costing him so much more than he ever could have anticipated.
Upon returning home, Paul struggles to deal with the after-effects of his experiences, a failing marriage, and his dying faith. Not knowing where to turn, Paul dives deeply into the story of a lifetime-an interview with a mysterious man claiming to be God.
What does an inquisitive reporter ask God? What would you ask?
Sitting down with this mysterious man over the course of three fateful days, Paul finds himself answering as many questions as he asks. While wrestling with what he knows and what he's unsure of, Paul finds himself at the crossroads we all come to in our lives: Who do we say God is?
Directed by Perry Lang and written by Ken Aguado, cast for AN INTERVIEW WITH GOD includes Academy Award® nominee David Strathairn (Good Night, and Good Luck) and Brenton Thwaites (Pirates of The Caribbean: Dead Men Tell No Tales), along with Yael Grobglas (Jane the Virgin, Supergirl), Hill Harper (Concussion), and Charlbi Dean Kriek (Black Lightning). The film is produced by Fred Bernstein of Astute Films and Aguado, and co-produced by Dominique Telson, Harrison Powell, Lisa M. Jean and Claudine Marrotte. Executive producers are Rick Jackson and Paul Kurta.
ABOUT GIVING FILMS
Giving Films is a non-profit label committed to films that entertain and spark conversations around life, faith, and relationships. One hundred percent of Giving Films' profits from AN INTERVIEW WITH GOD will be donated to charities, particularly those serving foster care. The company's first film, the 2015 release 90 Minutes in Heaven, starred Kate Bosworth and Hayden Christensen. In 2018 Giving Films partnered with AFFIRM Films on Paul, Apostle of Christ starring Jim Caviezel and James Faulkner. For more information, visit www.givingfilms.com.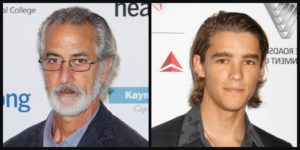 About Fathom Events
Fathom Events is the leading event cinema distributor with participating theaters in all 100 of the top Designated Market Areas® and ranks as one of the largest overall distributors of content to movie theaters. Owned by AMC Entertainment Inc. (NYSE: AMC), Cinemark Holdings, Inc. (NYSE: CNK) and Regal Entertainment Group (NYSE: RGC) (known collectively as AC JV, LLC), Fathom Events offers a variety of one-of-a-kind entertainment events in theaters such as live performances of the Metropolitan Opera, top stage productions including Newsies! The Broadway Musical and George Takei's Allegiance, major sporting events such as Mayweather vs. McGregor, epic concerts with artists like Lady Antebellum and Sammy Hagar, the yearlong TCM Big Screen Classics series, inspirational events such as Is Genesis History? and IN OUR HANDS: The Battle for Jerusalem, and beloved anime titles like Princess Mononoke and Spirited Away. Fathom Events takes audiences behind the scenes for unique extras including audience Q&As, backstage footage and interviews with cast and crew, creating the ultimate VIP experience. Fathom Events' live digital broadcast network ("DBN") is the largest cinema broadcast network in North America, bringing live and pre-recorded events to 917 locations and 1,440 screens in 181 DMAs. For more information, visit www.fathomevents.com. 
For Gospel Music info, Read the June 2018 SGNScoops Magazine HERE.
Find SGNScoops Magazine On Facebook HERE
Download The PDF Version Of SGNScoops June 2018 Magazine HERE
Listen To The Best In Todays Gospel Music Online HERE