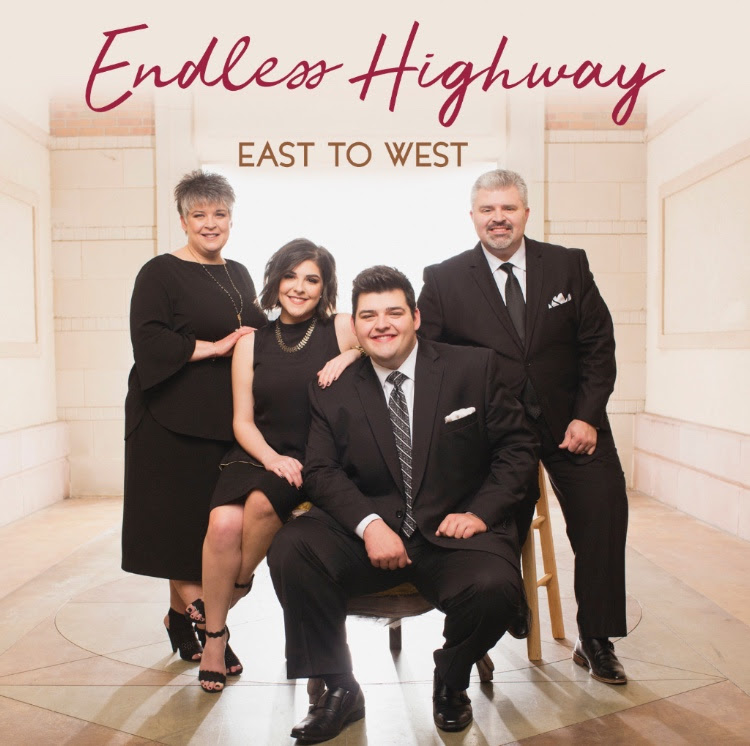 Arden, NC.  - With their latest release "East to West," Endless Highway sets out to prove that God's love and grace are all encompassing, spanning time and countless generations. With songs about belief, trust and commitment, the music of this family group proves that faith has no limits. It's what has kept their ministry strong for over four decades and what drives them forward with a new era of music.
Through blending musical styles, Endless Highway reflects the journey of the Southern Gospel genre and themselves by highlighting influences of the three generations that make up the group. By taking turns in the spotlight, the vocalists of Endless Highway show a style that is classic, yet fresh. From songs like the traditional "It's a Highway to Heaven" featuring the lead singing of Jason Griggs from the family's second generation, to the modern "Out of the Deep" featuring his daughter Allison, Endless Highway presents a dynamic mix of progressive and traditional music.
"We love variety and that seems to be our style," says Jason Griggs. "We feel that we've chosen strong material from amazing writers that convey the great message of salvation, grace, joy, hope, forgiveness, and the promises of God. It is our goal that this project will bless and encourage you, the listener!"
The album's first single, "It's His Story," features the lead singing of Jay Griggs, Allison's brother, who represents a new generation of strong Gospel lead vocalists. This song is a proclamation of faith, a message carried throughout this powerful new release from Skyland Records.
"Under the Sea" led by Allison references Micah 7:19 and is another picture of God's immeasurable grace when it comes to human imperfections. The song gives quiet reassurance that no matter a person's sins, God will never turn away.
"East to West" ends with "Out of the Deep," a progressive version of a classic Gospel song that closes the album on a sincere note, reminding listeners that God knows your many fears, and will see you through them.
Inspired by Psalm 103, verse 12 — "As far as the east is from the west, so far hath he removed our transgressions from us." — "East to West" from Endless Highway will uplift and comfort from start to finish.
"East to West" will be available from Skyland Records on May 25. Pre-order it HERE.