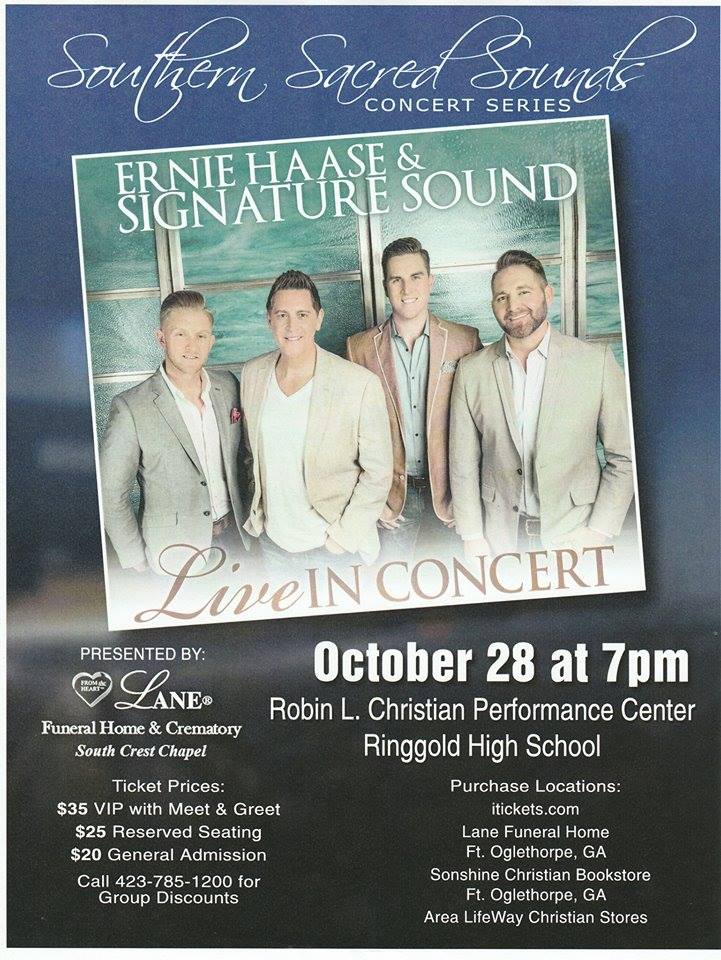 Ernie Haase and Signature Sound are scheduled to appear in the next installment of the Southern Sacred Sounds series, to be held in Ringgold, Georgia, at the Robin L. Christian Performance Center on October 28 at 7:00 p.m. Tickets can be purchased at itickets.com.
Ticket Prices:
$35 VIP seating with meet and greet with artists
$25 Reserved seating
$20 General admission
Call 423-785-1200 for group discounts.
About Ernie Haase and Signature Sound:
From its formation in 2003, Ernie Haase has built Signature Sound into one of the most popular and beloved quartets in all of Southern Gospel music. The group has traveled all over the world, offering energy, excitement and encouragement through its powerful brand of gospel music. EHSS continues to gain fans all around the globe with its unique performances and unmistakable four-part harmonies. EHSS is one of the most celebrated quartets in Southern Gospel History mentioned with the same "trailblazing" reverence as groups likes The Statesmen Quartet and The Cathedral Quartet.
EHSS has sung and sold to millions worldwide, a feat that has not been accomplished by any other Southern Gospel quartet. From concerts in Latvia and India to South Africa and New Zealand, events all around North America, TV appearances on ESPN with NASCAR, multiple NBA appearances singing our National Anthem, and even a specialty tour of historic American theaters in support of the EHSS Broadway project featuring Les Misérables legend J. Mark McVey, Signature Sound is a world-renowned quartet that spans a wide variety of genres and cultures.
As group founder, Haase is a creative, hard-working tenor whose early roots with the unforgettable and legendary Southern Gospel quartet, The Cathedrals, helped begin his dream to form a powerhouse group of his own. Along with many appearances through the years on the widely regarded Gaither Homecoming Tour, his goal was soon accomplished and then some…as EHSS quickly gained an international platform in gospel music.
Ernie Haase & Signature Sound is both GRAMMY(R)-nominated and GMA Dove Award-winning, a radio favorite in the United States and internationally, and a leader in CD sales and long form music video sales–with several RIAA(R)-certified Gold(R) and Platinum(R) DVDs. (as per http://www.erniehaase.com/bios.html, Thursday, Aug. 17, 2017.)
For more information on EHSS click here
Listen to Gospel music 24/7Â here.
Visit us on Facebook.
For more Gospel music news click here.