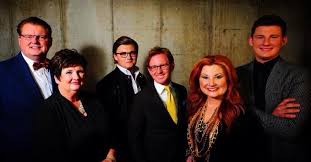 Glasgow, KY – The Sneed Family from Glasgow, KY, report that the accompaniment video to the single, "The News For Today" has reached nearly 362,000 views.  The new project features the Sneed Family's heart for hope in today's world.
The video was produced by Seth Sneed of The Sneed Family on location in southern Kentucky.  Fans are familiar with Seth as he is the baritone singer and guitarist for the group.  "This was more than a song, it is a message. Bringing the song to life in the form of a video has obviously affected many, but I want my generation to hear that God and the Bible are all we need," stated Seth.
"The News For Today" is a song written by Aaron Wilburn that was inspired by current events and the fact that God still rules.  "God has been convicting us to share hope.  Aaron brought this song to us and we knew it was what God wanted us to sing," said Jeff Sneed, Sneed Family spokesman.
The entire project was recently recorded at Ricky Skaggs' studio in Nashville, TN.  Ben Isaacs produced "The News for Today" using Southern Gospel favorite instrumentation from Kevin Williams, Mathew Holt, Greg Ritchie and others.
The Sneed Family is hosting the 2017 Gospel Music Festival, on September 1-2, 2017 at The Loretta Lynn Ranch in Hurricane Mills, TN.  There are two full days of Gospel music scheduled featuring The Bowlings, The Bowling Sisters, The Freemans, Geraldine & Ricky, The Guardians, High Road, The Isaacs, Karen Peck & New River, The Perrys, The Sneed Family, Wade Spencer, Aaron Wilburn and The Villines Trio.
For ticket information: www.ticketstorm.com or by calling 866-966-1777.
A favorite to their fans, the Sneed Family provides an honest worship experience while providing encouragement.
Watch for them on stage as well as on television with their production of "Sneed Family Music".  The program is seen in over one million homes each week.  The Sneed Family brings music, and interviews from the best in Southern Gospel Music.  The show is now available online.
For more information on The Sneed Family, visit sneedfamily.com.
Listen To Todays Gospel Music HERE