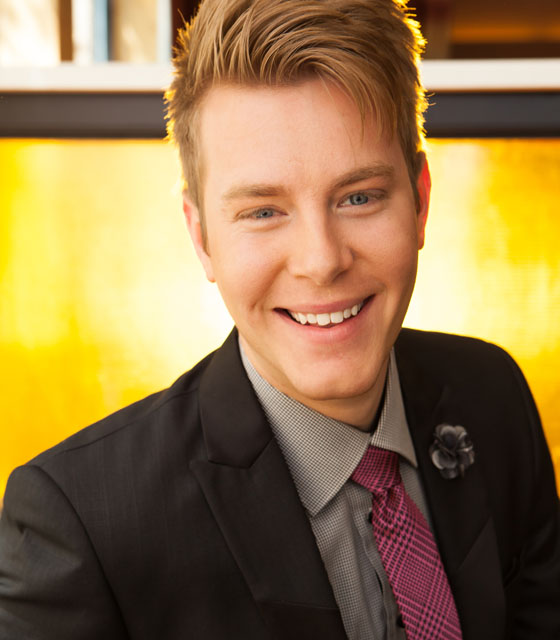 By Erin Stevens
No matter where you grow up, what job you have, or what music you listen to, when God puts a calling on your life, nothing and no one can stand in your way. That is just the case with powerhouse tenor, Riley Harrison Clark of Tribute Quartet. Take a few moments to hear straight from this tenderhearted man of God. Take it away, Riley…
 
Erin: For the readers who don't know your background, why don't you tell about how you came to be Tribute's tenor?
 
Riley: I've been singing since I was 12; at that age, I began vocal coaching with Steve Hurst. At 13, I attended his music school; it was there I met the Tribute guys. I had a few lessons with the guys and when Brian Alvey (their former tenor) came off the road, my name was brought to them. On a Wednesday I was on my face at 2:00am pouring my heart out to God, trying to plead with Him to move me forward in the area He was calling me. At 10:00am that same day, Gary Casto gave me a call and asked if I would be interested in joining Tribute. It was one of those God moments that, even if I wanted to say no, it would have been impossible. June 25th 2014 will be four years since I first sang with Tribute.
 
Erin: When you came into the industry, you were the consummate newbie. What were some key things that took a lot of getting used to?
 
Riley: 1. Sleeping in. Working back home, I was always up early. When I got on the bus, I quickly realized that everyone sleeps in. I'm still getting used to that, and generally with no success. 2. At first, when we would walk into events, I was taken back that I was not only in the same place with people I looked up to, but that I was actually doing the same thing.
 
Erin: While still being in that newlywed stage of life, and recently becoming a daddy, along with traveling full-time, how do you juggle all three roles?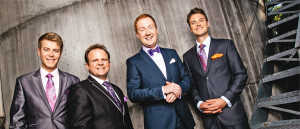 Riley: It begins with constantly reminding yourself that God has called you at this time, for this season, to be where you are at because He wants to use you. It also takes an incredibly loving, supportive wife that understands the call of God, and wants her husband to be in the center of God's will. Can I say that it's easy? Not at all. There are times I want to stay home because of how I miss Megan and Colbin, but it goes back to the first point I made. I am called to sing, and I know I am where I am for a purpose. As for the little guy, it is rather tough to miss out on his everyday adventures; but thank goodness for technology that allows me to see him, even though I may be in a different state or country.
 
Erin: What is the most peculiar thing a fan has ever said to you?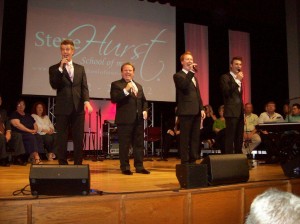 Riley: (This is for you, Morgan Easter) One year during Singing In the Sun, a sweet lady walked up to me, and just said, "I really like your ears." Surprising, since they were red and peeling from sunburn. Besides that, I didn't realize ears were a feature that got much attention!
 
Erin: Favorite aspect of road life, and least favorite? (double whammy question – go.)
 
Riley: Favorite: waking up at Wal-Mart and being in a different part of the country every morning. Least favorite: waking up at Wal-Mart and being in a different part of the country every morning.
 
Erin: Which song do you sing each night that you consider your testimony and why?
 
Riley: Recently we put "God on the Mountain" on our Hit Replay Again album. If there is something I could say to anyone, it is that no matter what is going on, where you have been, where you are at, or where you are headed, God is always faithful. If you believe in what the word of God says, then find rest in the assurance that He will always be God, and that He will always be faithful.
 
Erin: A must-ask question among all Gospel singers: what's your hands down, can't live without, favorite food?
 
Riley: Hot dogs, pot roast and Ranch dressing. Anthony will make a pot roast on the bus, and there is no doubt that I will eat 70% of what is in that crock-pot. As for restaurants, hands down, IN-N-OUT BURGER.
 
Erin: How would you encourage those looking up to you as a role model in these crazy, mixed up days we are living in?
 
Riley: Get planted in the Word of God. Stay focused on what it says. Never think you are too small to be used by God. Do your best to know what it is that He wants with you and for your life. Don't stop until you reach your goals and once you get there, never let the devil discourage you because it is God that called you. And if He has called you, then you are carrying out His plan, and that one needs to be carried out 'til the end.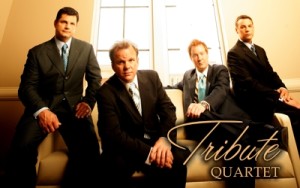 Riley would also like me to add that he has made it thus far largely due to the guidance he has received from his parents. What an outstanding privilege and blessing to have such a strong support system within the family unit. Needless to say, the Clarks raised a great man to carry out the message of the Gospel. Thank you, Riley for sharing from your heart with the readers today. Until next month, Scoops fans…
 
And that's my take on it.
For more on Tribute Quartet and Riley Harrison Clark, click HERE.
First published by SGN Scoops in July 2014.
Erin Stevens writes the Younger Perspective column for SGN Scoops digital magazine every month. For current issues of SGN Scoops click HERE.