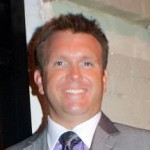 Driven Quartet has been traveling the nation's highways, singing Gospel music since 2007. Owner Jason Funderburk was literally born into the industry, as he grew up watching his father Danny sing with the Cathedral Quartet. Now his quartet is making their own mark on Gospel music with their new recording and a strong sound, mixing memories of the Cathedrals with a more youthful flavor and energy.
Jason Funderburk joins SGM Radio on an In Depth interview and tells us about the new Driven Quartet CD, Takin' You There. "This project contains some old Cathedral favorites and we have a song included on here that my Grandaddy wrote called "Whiter Than Snow," says Jason. " My Dad makes a cameo appearance on it and it will surely bless your heart. Our latest single is "Would Not Be Surprised"."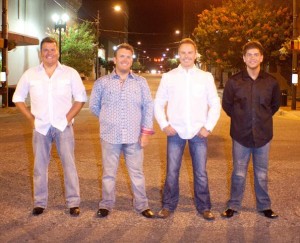 Will Lane on bass, baritone Chad Smith and Wesley Smith singing tenor join Funderburk in Driven, and their combination of traditional quartet vocals is very reminiscent of Cathedral days. "A lot of folks may not know that we have Wesley Smith as our new tenor," says Funderburk. "He has been with Palmetto State and Dixie Echoes. Wesley brings a lot of variety to our concert setting. We do a large segment of our concert with piano, bass, and acoustic guitar."
Funderburk says his favorite song to sing with the group is "Between a Rock and Hard Place," as well as, "Whiter Than Snow." Gospel music is in his blood and he loves to travel and sing the message of Jesus Christ. "My favorite thing about traveling with these guys is that it's like traveling with three brothers," says Jason. "We are a family. I would not be scared to say that we get along with each other off stage just as well as we do on stage because of our kinship." 
"Will is our encourager. He is always ready to sing no matter the circumstances," shares Funderburk. "Chad is our accountability partner. He keeps us grounded in our devotions. And Wesley, he is our down-to-earth guy. He helps keep our stress level down. Well, at times!" laughs Jason.
Thoroughly seasoned in presenting a well-rounded concert, Funderburk says a Driven Quartet presentation is carefully arranged. "I try to construct a good evening of fellowship, ministry and laughter, as well as making the environment comfortable for the guys. I believe that God has allowed me to share the Lord with others through song and I truly enjoy it. I try to always keep others uplifted and strive to be as organized as possible."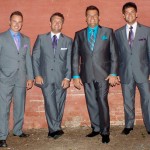 Sharing the Lord with others requires a commitment to regular communication with Him, which Jason says comes through personal devotions. "I try to strengthen my relationship daily with the Lord. I begin each new day reading a passage from a very special book that my best friend gave me entitled God Moments. This helps get my day started off on the right track," says Funderburk. "Another one of my favorite authors is A. W. Tozer."
"Something that has really spoken to me lately is our church's recent study of the book of Daniel," Jason comments. "The strength and faith of Daniel has been a very big source of encouragement at this time of my life."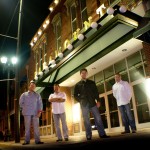 Funderburk shares that one of his goals for this year is to spend more time with his family. "I keep my family strong by good open communication and continuous love," says Jason. "I keep them strong in the Lord by depending on Him with all decisions we make and allowing Him to lead, guide and direct our paths. The one thing I cannot live without is the love and support of family and friends."
On a more humorous note, Funderburk admits that he isn't always as strong as he should be. "One habit I know I should break but can't would be eating sweets after 9pm!" 
Jason has been in the Gospel music spotlight for many years but claims there are things that might take his audience by surprise. "One thing that very few people know about me is that I love to fish and hunt," he says. "And my favorite TV show is Duck Dynasty."
Jason Funderburk and Driven Quartet continue to share the "Boundless Love" of Jesus Christ through new songs and old, bringing the timeless message to audiences of all ages. As Jason says, they are "Lovin' the Lord, Lovin' Life" as they are Driven4Him.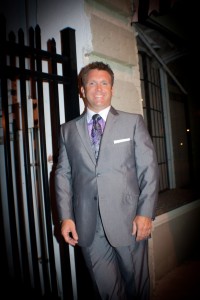 For more information on Jason Funderburk and Driven Quartet, as well as  their tour schedule, visit: http://www.drivenqt.com/home
Facebook: https://www.facebook.com/funderburkjason
Twitter: @funderburkjason
SGMRadio was happy to chat with the Jason Funderburk, owner and lead vocalist of Driven Quartet, as we continue our feature entitled "In Depth With". We will try to allow you to get to know your favorite artists just a little better by asking questions you may have always wanted to ask. If you have a favorite artist please email us and tell us what you would like to know about them! Email here: sgmradio.lorrainewalker@gmail.com