Mark Lowry concert review – Susan Werchonowicz
The Prayer Palace presents: Â An Evening with Mark Lowry
Saturday Dec. 22, 2012
Supreme Banquet & Convention Centre, ON – Canada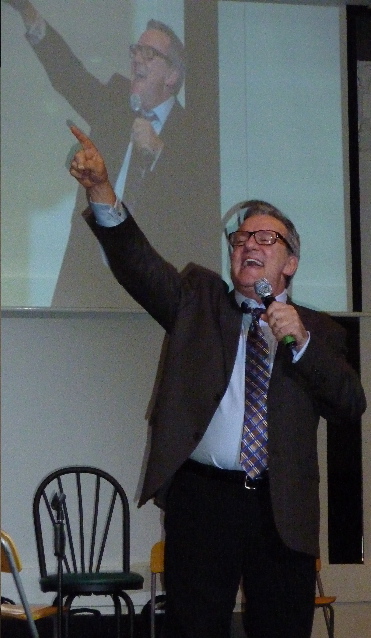 This is my inaugural article for SGMRadio and I'm delighted I was able to review a Mark Lowry concert for my debut.
The concert and banquet was presented by The Prayer Palace in Toronto.  We were treated to an evening with singer & songwriter from the Gaither Vocal Band…Mark Lowry. 
Mark joined The Prayer Palace Pastor, Paul Melnichuk, his wife Kathy, and an abundant audience for a mouth-watering full Christmas dinner and concert.  Prior to and post the dinner, Mark was extremely welcoming as people came over to him at his table requesting to have: their picture taken with him, or to secure his coveted autograph, or for a brief chat.  Mark as always, was very approachable and joyous to meet his Canadian fans/friends.
The concert itself began with 
Valiant Music Group
 opening for Mark Lowry. The Canadian trio (recently nominated for two (2) Covenant Awards) consisting of: Matthew Grieve, Jeff Harden & Rodney Hamilton, who are based out of Guelph, Ontario, Canada.  Their set of songs delighted and tickled the audience with ear Christmas candy.  They had tweeted their excitement opening for Mark, and how elated they were to hear Mark himself sing his Christmas classic, 
Mary Did You Know (written by Mark Lowry and Buddy Greene)
, the song the trio usually perform.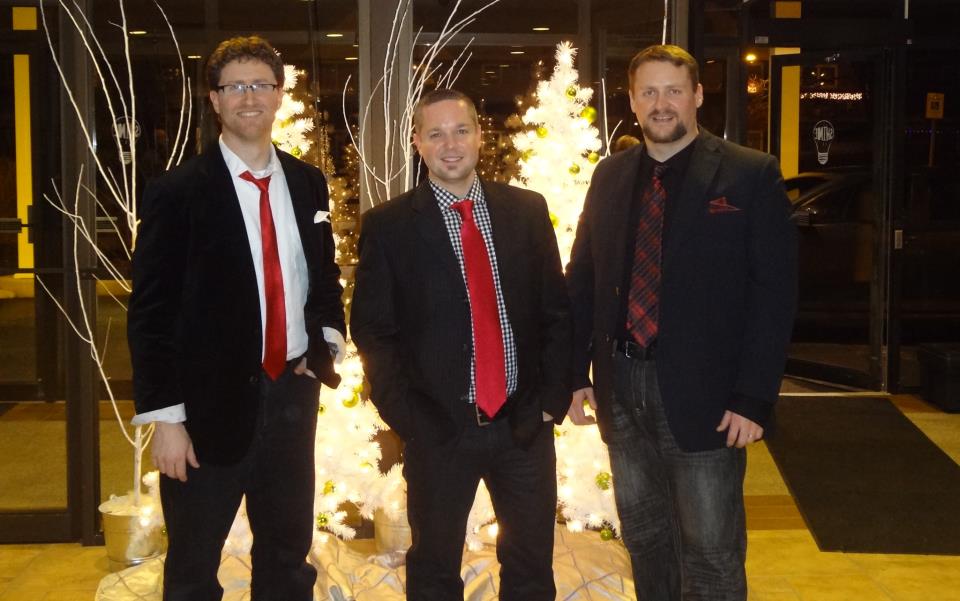 After a brief break, the zenith of the night occurred when the charming and dapper Mark Lowry finally took the stage.  Accompanying Mark on the keyboards was the ever-talented Stan Whitmire. The Prayer Palace Pastor, Paul Melnichuk has a strong resemblance to Tony Bennett that did not go unnoticed by Mark.  Upon taking the stage Mark began his set with a brief rendition of a Tony Bennett song Fly Me to the Moon.  The Pastor as well as the audience tittered with delight with Mark's dedication to Pastor Paul with this song.  Mark's crooning whet our appetite for his upcoming CD, comprised of some favorite "Love Songs" classics targeted for an early 2013 release.  In addition, we were delighted with some typical Mark shenanigans, as he sang a few popular early classic TV theme songs.  The crowd was in stitches!  Mark ended the classic TV melody with the famous theme of the Flintstones, "W.I.L.M.A."…What fun!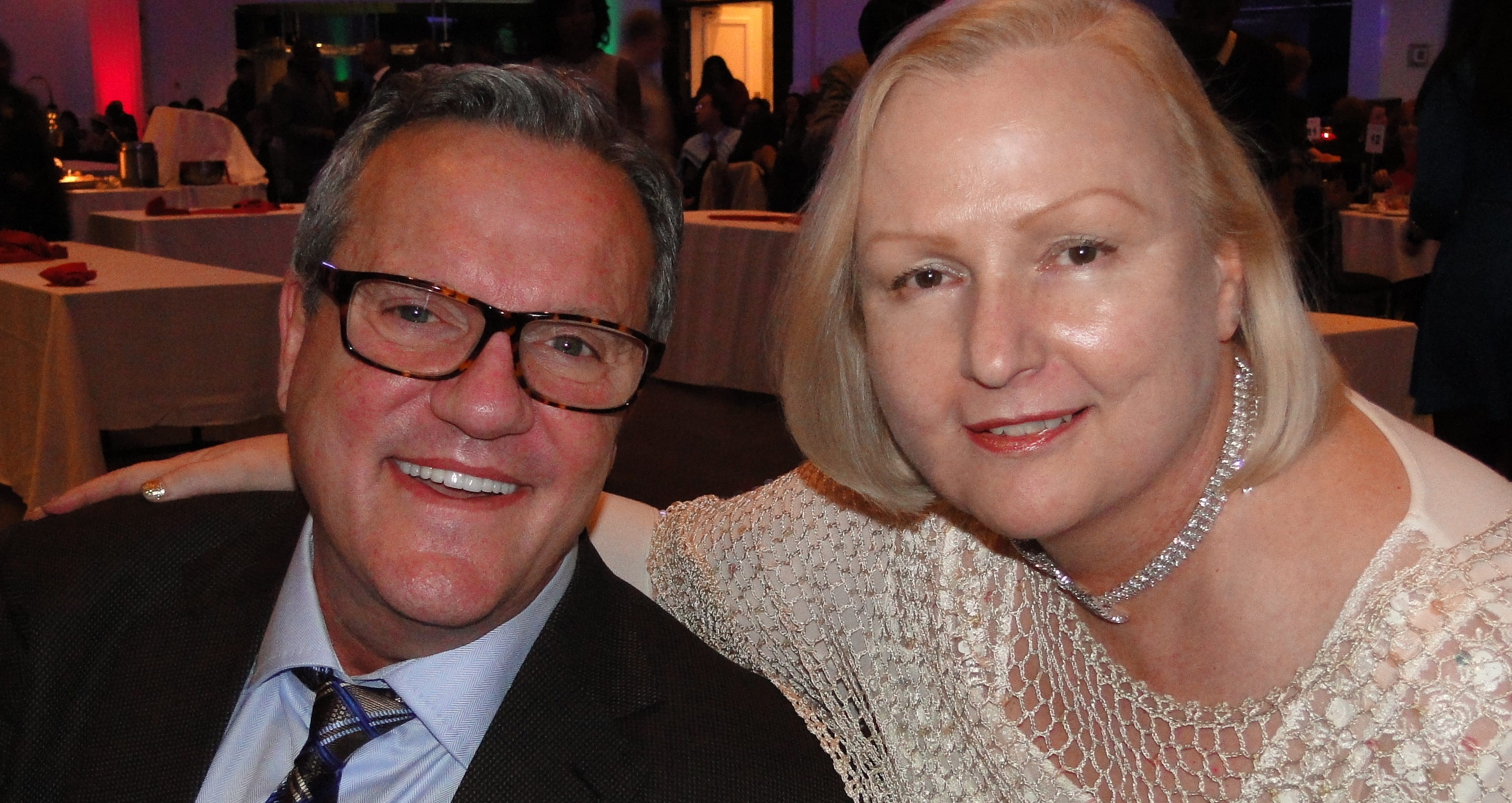 Mark was in good form and delighted us all with not only great songs, but also with hilarious anecdotes, including the painful but ever funny account of his infamous broken leg.  "I have dead people in my leg.  I don't know them…but I love them".  Mark's set reflected his rich powerhouse baritone voice to its fullest.  He also thrilled the audience with a Christmas carol, Away In a Manger. As his finale, Mark charmed the crowd when he sang his ever-popular Mary Did You Know sung to perfection!  Leaving us wanting more.
The evening kicked off somewhat slow due to the delayed required preparations of the banquet.  However it appeared that the minute Mark took the stage, he left the stage.  Why is it that good times are finite and come and go far too quickly?  Mark surprised the audience (which consisted mostly of The Prayer Palace congregation) when he announced that he would be attending their 10:30 a.m. morning service the following day.  After the concert Mark did a "meet and greet" with his fans, and all were excited and so happy to meet Mark.  "Mark, please return to ON Canada anytime, we promise to continually greet you with open arms".
For more information about 
Mark Lowry
 and all of his upcoming concerts (solo or with the Gaither Vocal Band), please browse Mark's website 
www.marklowry.com
.  Al
so why not follow Mark on Twitter @MarkAlanLowry.
Please also visit the website of the 
Valiant Music Group
 at 
www.areyouvaliant.com
 for their concert updates as well as other interesting information about the trio.
Concert Review by Susan Werchonowicz