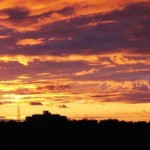 Easter is a glorious time of praise to our Lord and Savior Jesus Christ for dying on the cross and rising to life. This act of redemption brought the gift of eternal life for those who would believe! Such a dark, cruel death to be followed by the incredible light of new life. It is a time to ponder, to meditate, to believe and to rejoice. One of the best ways for believers to celebrate Easter is through the wonderful songs and hymns written especially for this historical, eternally definitive moment in human history.
SGM Radio recently asked various friends on Facebook about their favorite Easter songs. These are in no particular order. We hope you find your favorites listed here!
Arise My Love – Written by Eddie Carswell of Newsong in 1987, this song has been recorded by many, including Newsong and The Imperials. The song graphically describes the Father looking down at His Son in the cold, dark grave. He tells His Son to "Arise" and the song wonderfully depicts the events of the resurrection.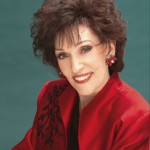 We Shall Behold Him – This incredible anthem written by Dottie Rambo in 1980, has crossed all lines of music genre and is beloved by many. Along with the songwriter, artists who have recorded this song include Sandi Patti, Vickie Winans, Ron Kenoly, Walt Whitman and many others. Legendary pianist Anthony Burger was known for his instrumental version of this song.
He's Alive – Written and originally recorded by Don Francisco in 1977, this is the story of the resurrection from the Apostle Peter's perspective. Francisco received the 1980 Dove Award Song of the Year for "He's Alive". Recorded by Dolly Parton, Ray Boltz, Heirline, and others. Lauren Talley of The Talleys recently sang a powerful version of the song on the album Lauren Talley.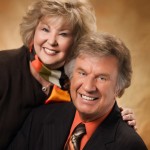 Because He Lives – Another song that transcends genres, "Because He Lives" was written by Gospel greats Bill and Gloria Gaither in 1970, following the birth of their son Benjamin. This song has been recorded, sung and loved by millions; played during all seasons of the Christian calendar, at infant dedications and many funerals, as a triumphant solo and a great choir anthem. Perhaps it is most memorable as heard by the writers themselves, the Gaithers.
Gone – This tune was written by Eldridge Fox of The Kingsmen Quartet in 1972. Along with the Kingsmen, it has been recorded by Jessy Dixon, John Starnes and others. Teddy Huffman and the Gems were especially loved for their rousing rendition.
I've Just Seen Jesus – Another Easter great by Bill and Gloria Gaither, along with Danny Daniels, this song was written in 1984. Larnelle Harris and Sandi Patti received the 1985 Dove Award for Best Gospel Performance by Group or Duo for their rendition. Another anthem that pianist Anthony Burger performed splendidly for many years.
Behold The Lamb – Written by Dottie Rambo in 1979, The Rambos recorded this triumphant tune. Most recently, David Phelps recorded it on his album, Life Is A Church. This song needs strong, majestic vocals such as Phelps provides, but it is a Rambo product through and through. A large choir aids in the 'goose bump factor'.
Midnight In The Middle Of The Day – Another Dottie Rambo tune, written in , this is a haunting description of Jesus' death on the cross. Vividly detailed and expertly communicated, when sung by the unmistakable vocals of the Rambos, this is one that remains with the listener for years. [At the time of publication, the author was unable to discover the year this song was written.]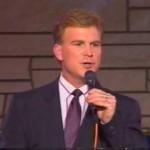 There He Is – Written by Garry Sheppard, formerly of The Kingsmen, during his tenure with Perfect Heart, this song was released by Perfect Heart on their 1996 album, Turning Point. [Unable to discover song credits at time of publication].
Above All – By Paul Baloche and Lenny Leblanc, published in 1999, this song was most notably recorded by Michael W. Smith for which he received the 2002 Inspirational Recorded Song of the Year Dove Award. This song is now sung by worship leaders across the world, throughout the year. Poetic, personalized lyrics and a thoughtful, meditative tune make this worship song loved by many.
There Rose A Lamb – Kyla Rowland wrote this beautiful song, published in 1992 and sung by the incomparable Gold City Quartet, for which they received the 1993 Dove Award for Southern Gospel Song of the Year. The song was released on the Pillars of Faith recording.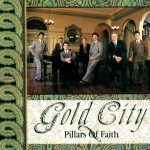 Rise Again – Dallas Holm wrote this Easter favorite in 1977. A song that continues to live on and bless hearts, it has been recorded by artists such as the Blackwood Brothers, the Cathedral Quartet, Ivan Parker, the Dills, and many more.
Easter hymns continue to be special to believers, their wonderful poetry and triumphant chords echoing through our memories. A couple of favorites of our friends can be heard in churches of all denominations.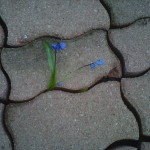 Were You There (When they crucified my Lord)?  [Anonymous]– "It's simple, but kind of a haunting melody from an old African American spiritual. It's one of those songs where it's so clear to me that the writer has such a deep reverence for the gravity of what happened to Christ.  I can feel that every time I hear it.  Hardly ever hear it much anymore, at least in my church." – Tracy Bertram, Kentucky.
He Arose – [Robert Wadsworth Lowry, 1874.] – "You have the verses that are kind of laid back and pensive: 'Low in the grave He lay, Jesus my Savior. Waiting the coming day, Jesus my Lord!'. Then it shifts to the jubilant chorus: 'Up from the grave He arose, with a mighty triumph o'er His foes. He arose a victor from the dark domain, now He lives forever with His saints to reign, He arose!  He arose!  Halleluia, Christ arose!' That's just a tremendous worshipful song that you won't hear at the praise and worship service this Sunday, no matter how loud the electric guitar is!" – Tracy Bertram, Kentucky
Christ The Lord Is Risen Today – This wonderful hymn is attributed as: Words, Charles Wesley, 1739. Music, Lyra Davidica, 1708. The extended 'Allelujahs' are a good practice for proper breath control while singing, but the lyrics are an exclamation of all the joy that is Easter.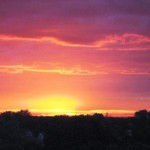 We hope you have enjoyed this quick look at the songs that make our Easter season more joyful and triumphant!