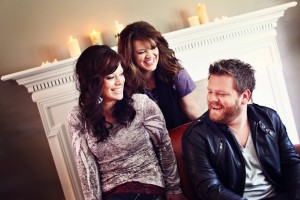 Crawford Crossing has been turning heads since its formation in 2009.The trio has shared the stage
with many top Southern Gospel performers and their first CD, Turn up the Music, received a Dove and
Absolutely Gospel Music Nomination for Country Album of the Year. "Crawford Crossing is the future of
Southern Gospel Radio. They are raising the bar. Their quality, great songs and style are so refreshing.
We are proud to play their music on WPOS," says Sheri LaFontaine (The Ike and Sheri Show). Three- time
Gospel Music Dove Nominee, Tabitha Crawford Wheeler, is the trio's lead vocalist. Tabitha's brother,
musician and song-writer Israel Crawford shares some lead vocals and his wife, Whitney sings harmony
completing the trio.
Although Crawford Crossing is a new group, Tabitha and Israel have been singing all of their lives. While
growing up, the brother-sister team sang in church, weddings and Christmas plays. Since childhood,
both Tabitha and Israel have loved music. "You could say I'm definitely one of those Southern Gospel
junkies. I listened to Jeff and Sheri Easter, The McKameys, The Martins and also the Crabb Family when
they came on the scene. I also had a country influence. I have always been a big Martina McBride
fan and my favorite singer EVER- bar none was Dolly Parton and still is," Tabitha explains. "Israel was
influenced (especially when he was younger) by country artists such as Garth Brooks, Diamond Rio and
Alison Krauss."
In 1998, Tabitha formed Living Waters Trio and received two Dove Award nominations and had several
songs charting in the top 40. When the group disbanded, Tabitha's music ministry was far from over.
Tabitha shares: "I just felt like God wasn't done with me and it wasn't time for me to quit singing."
Although Living Waters Trio had split, there were appointments still scheduled on the calendar and God
had a new plan. The desire of Tabitha's heart was to sing again with her brother. "I had always wanted
to sing again with my brother, but the circumstances (as far as him being busy with his wife and kids
and me and mine) kept it from falling into place until now. This is going to be kind of funny, but before
I even asked my brother, {to sing} I asked Whitney. Whitney had never really sung in public very much.
She sang at a couple of venues with my brother- he had put together a couple of different bluegrass,
bluegrass/gospel groups and she would sing a little bit with him. I asked her first. I asked her to fill in a
couple of dates and she has been on board from the start. She {Whitney} said 'you may have to give me
a little while to practice, but I will be glad to help you whenever you need me.' From that moment on,
every appointment I had, she was there, she never missed a date."
Lack of stage experience didn't get in the way for Whitney. "I do get nervous," she admits, "but once I'm
on stage I'm ok- it's just getting to that point. I pray a lot!"
"Nobody would ever know that she gets nervous," Tabitha adds, "She's grown as a singer and I don't
say that because I'm her sister-in-law, I say it because I can see it. I can see the progress from day one.
She's been put in the position to where she has had to sink or swim. We were all at that point and we
just jumped in. We threw every dollar we had, every ounce of effort and every prayer that we could
get through to God. When we sat down to do that all three of us said it was all or nothing. Whitey gave
every ounce of effort that she had. I've never seen anybody in my life to work as hard in a studio or on
the stage as Whitney does."
With the beginning of a new ministry and with singers in place, it was now time to develop a style and
sound. Although Israel and Whitney have a love for bluegrass, Crawford Crossing's sound is country.
"We are a completely different group with a different sound. This is a whole new ballgame. Honestly,
the best description I can give of our sound is… It's our heart," says Tabitha. Continuing to clarify,
Tabitha continues: "We're from the south, we're definitely country. We've grown up on Southern
Gospel and we've grown up on country music. Our sound is more of a country sound with a Christian
faith based lyric. You may hear a mandolin every once in a while, but there is nothing bluegrass about us
at all."
Yes, God was up to something new and the group needed a project all of their own. Tabitha explains
how Crawford Crossing's first album came about: "When the band came together, I needed a project
because I didn't want to sell Living Waters Trio product anymore. I was ready to start something
completely new. When it was time for Turn Up The Music record, we got together and found songs that
we liked and that felt good to us and also had a positive message about Christ and just a positive life
message as well. That's how that record came about more or less because we were trying so hard to get
something together as a group so we could get it out there and not have such a big gap in between. I
had all these appointments that I was still filling, but I didn't have any product. We needed something
to express who we were. We were sent a lot of songs. We listened to them by different writers, even
songs that other groups had recorded. We took a couple of weeks and narrowed it down, then we just
went into the studio, cut the tracks and then the next week, we cut the vocals. I feel like the title cut of
the record, 'Turn Up The Music' and 'I Run To You' probably describe this group's starting off better than
any other songs on the record. We just had to come to the point of understanding we were beginning
a brand new thing in our lives and in our ministry. Leaving the old and letting God show us something
new. We just had to completely trust God and that's how it came together."
Crawford Crossing released their second project entitled, Some Things Go Together in August 2011.The
group has been testing out a few of the new songs on live audiences and has received positive feedback.
Tabitha explains the new record: "Out of everything I have ever done in my life- and I've been singing
since I was 2 years old and singing on stage with groups since age 17- and out of all the songs I've ever
sung, records I've ever cut (I've been on 11 different albums) this record probably speaks my heart and
our group's heart greater than anything we've ever done. There are songs about God's love… It talks
about how Christ can get you from one place to another…When you feel like you can't go any farther
and He's right there to carry you through. There are songs on this record that talks about everyday
life. I think sometimes as Christians, we forget that we are still human and that we still have to live. We
have to face the world in different circumstances every day. Our difference is that we have an advocate
with the Father, which is Jesus Christ. That's the greatest difference in our life and this record is just
incredible. It gives you an outlook as a Christian to your life with Christ and how full it really is. The
record has 12 songs plus a bonus cut of a Christmas song on there. This album will feature some new
writers and plans are being made to release one or two songs to country music as we did with the last
album."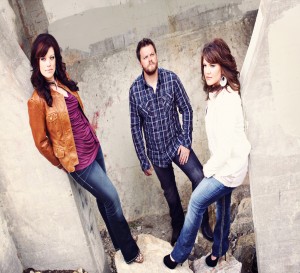 Although Crawford Crossing has worked hard at choosing their sound, making their records and singing
out in many venues, they are learning to let God define who they are and lay out the plans for their
group. "I think when you start a new group, you try to be professional and you try to do everything by
the book," Tabitha says. "You want to fit in and you want to look a certain way. You also want to make
sure you have stage presence like 'this & that.' I would say about 6 or 8 months after the first record
came out, we were trying to get comfortable with our songs and our new group. My brother just kept
being bothered by us wanting to look a certain way and dress a certain way. As an artist, you go through
comparing yourself to everyone. What God is showing Crawford Crossing is that the greatest thing you
can do is show people yourself and what God has done in your life and for you. It's not a competition.
We are all working together for the same result and that's just to spread the wonderful message of
Christ and happiness and success in life through Him. By trying to keep up with the Jones' all you're
doing is selling God short. We're learning that through patience and letting God teach you things, you
become more successful in Him. It's about listening to Him and not trying to do what everybody else
wants you to do."
The trio has shared many experiences together some serious and some rather humorous. Tabitha
shares: "We were doing a tour date in Nashville. I was 8 months pregnant. We were in the middle of a
song and my brother went to put his arm around me. As he did, his button on his sleeve of his shirt got
caught in my hair. He tried to pull his arm away, but when he tried my hair went with him. I got tickled,
we're laughing and I wasn't even singing at all. During the break of the song, he had to turn around and
use both hands to get free, but a big wad of my hair fell to the floor!"
Crawford Crossing has had a successful start and God will perfect what He has started until the very end.
Until then, Israel wants their fans to know that God's love is unconditional. "I want the fans to know-
especially the young people, that God loves us no matter what."
If you enjoyed this story find more at www.sgnscoops.com