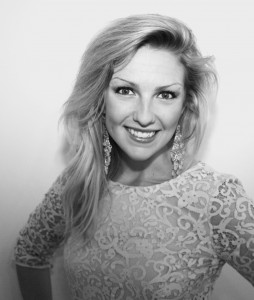 When looking for a young, Southern Gospel artist to write about in this month's issue, a beautiful, talented young lady came to mind, Hannah Webb. Her family has been in the ministry for a long time, so I knew she would have some great insight. A lot of people only see us Southern Gospel singers from the stage, so I think it's important to let them know we're just normal people like them.
Victoria: Alright Hannah, tell us about your family and some things that are going on in the Rick Webb Family's ministry right now.
Hannah: Our family has had the privilege of singing over 150 concerts each year, for many years. In fact next year marks my mom and dad's 30th Anniversary in music ministry. One of the blessings we have experienced through the years is the way we have crossed denominational lines and have sung in most of the largest churches in America, as well as some of the smallest. We never take for granted and are always appreciative of each opportunity we have to share the gospel.
We have had a lot of exciting opportunities for ministry this year; however we are always grateful when we release a new project. I am excited that our record company is releasing our very first DVD, "The Rick Webb Family….live across America" to celebrate our 30th Anniversary at the beginning of 2012. It will contain clips from our concerts at Shadow Mountain Community Church, El Cajon, CA, First Baptist Church, Jacksonville, FL and the National Quartet Convention Main Stage. To find out more about the release, go to our website www.TheRickWebbFamily.com
Victoria:  That's awesome! We'll definitely have to check that out! Now tell us, being as pretty and talented as you are, I'm sure your dad has to beat the guys off with a stick haha.  Do you have anyone special in your life?
Hannah: You are too kind! As my dad says from the stage, "Hannah is saved, single and not available."
Victoria:  Well, at least that's better than what my mom says about me, "Victoria is saved, single, searching, and desperate!"  Haha!  That's definitely not true, but my whole family likes to give me a hard time about it. I know being in full time ministry can be a challenge sometimes. Is this something you can see yourself doing in the future? What is your main goal for yourself in the years to come? What do you see yourself doing in the next 10 years?
Hannah: If you had asked me ten years ago, I would have said a professional horse trainer or a missionary in the jungles of Angkor. My goal is to honor and glorify our Creator. The rest is up to Him, and I'm prepared to be surprised. (Although, I do hope to have my own cookbook published by then.)
Victoria:  That's great. It's so important to keep your focus on the reason that we sing at all. It's so easy for our attention to be diverted. Now, while traveling, a lot of people like to do a lot of different things.  What is your favorite thing to do on the road?
Hannah: I enjoy finding a good book to read or a good movie to watch while on the road. Life stays so busy when we are home, so the travel time is quite nice.
Victoria:  I totally understand that. Being in a family group myself, I know it can be "interesting" traveling with your family sometimes.  haha  What's it like traveling with the Webb Family?
Hannah: We have the best time on the road… always laughing! It's a treat to be able to travel with three of the most wonderful people you'll ever meet.
Victoria:Â  What is your favorite place to eat while out on the road?
Hannah: My favorite place to eat while on the road would have to be Panera Bread!
Victoria:Â  Is there anything exciting going on with you right now?
Hannah: Releasing our new DVD and finishing my Graphic Design/Photography degree this year is exciting! We just moved from our farm, which has forced my hobbies to go from horse riding, hunting, and bottle-feeding newborn animals, to cooking, cake decorating and running/exercising. Slightly harder to keep things interesting while I am home, but where there's a will, there is a way. I do still plan on going deer hunting this fall, though!
Victoria:  I love the fact that even though you are a classy girl and seem to be very fashionable, that you still like the outdoorsy stuff too. Speaking of fashion, you have some of the most beautiful outfits!  Where do you like to shop?
Hannah: Thank you! I love shopping at artsy little boutiques for my stage clothes.
Victoria:Â  There are a ton of places that you get to travel and so many states you get to sing in. If you had to pick one though, what has been your favorite state to sing in?
Hannah: I always love singing in my beautiful home state. North Carolina is God's country, for sure…Why else would the sky be Carolina blue?
Victoria:Â  Thank you, Hannah, for taking the time to answer some questions and letting myself and the readers get to know you better.
Hannah:Â  You are very welcome! Thank you for the opportunity!
I had a great interview with Hannah and would like to thank her very much for giving me the opportunity to work with her.  If you get a chance, go hear the Rick Webb Family.  You will not be disappointed!  You can visit their website at, www.therickwebbfamily.com
Click Here For more great stories