"Let's go on a journey. But let me warn you before we start. This won't be any picnic and we're not strolling through the park."(lyrics from The Journey, Ronald Hinson, Kenneth Hinson).
These lyrics are from a song Ronnie and Kenny Hinson, long-time friends of mine, penned many years ago. Now this journey has to be between two people willing to accept the hardships that may come. They must believe that the bond they share could never be broken no matter the circumstances or conditions.
You see this journey is about true love.  True love is beyond those trivial things that are only detours to your ultimate goal, not the destination. The journey itself is about a journey deep inside the heart and soul of individuals.
It starts with trust. Trust by definition is: confidence, a firm belief, a state of being relied on. Trust is what you put in someone else's hands. Trust is what makes someone know you are always there for them. God asks us to trust his love in John 3: 16.  What more can one do than to give their only son for our shortcomings and failures?
Then there is faith. Faith by biblical definition is, as stated in Hebrews 11:1, the substance of things hoped for, the evidence of things unseen. Webster defines faith as 'believe without proof'.  Faith is what makes people realize that you are always there to help them just in case they need some help.
You see, love is not for everyone.  However, as God points out throughout His Word, His love is for everyone who will accept it by faith. 'By grace through faith are we saved.'  He is always there for us even when we don't know it, see it, or feel it.  Yet He is there.   He is there to let us know that He is ready, willing, and anxiously able to be with us, to cherish us and to fulfill all of our dreams. To share with us and, to most of all, make us realize how much He really loves us.
We read about faith, hope and charity, (which we call love). Faith breeds hope which then brings love.  Faith comes from hearing and hearing from the word of God.
There are two kinds of faith: the gift from God and the gift from the Holy Spirit. With our little faith plus God's faith, we can move mountains. With that combination in place in our lives there is nothing we can't do.
Love is the greatest, but it doesn't come first. Faith is where life really is. Without faith you can't be saved. One of my favorite illustrations comes from an old pastor friend of mine who has gone on to be with the Lord, Lawrence Rhoades from Ohio.  He said: "The top of a tree is love. The roots of the tree are hope. Faith is water that will nourish the roots to make the tree grow." Without faith it's impossible to please God.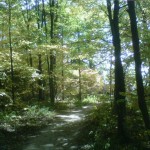 You see, no matter how much you love someone, if you don't have these ingredients you will never succeed.  To have love is to be patient, but to be patient means to trust that individual, that someone first.  However, in order to love on a spiritual level, one must trust the one thing that will never fade.  Trust the one thing that will never let you down, and will never fail you.  That is the heart where Jesus has come to live.  You see, the heart already knows what the mind can only dream of.  You must have faith in your heart.
Nothing can or will not hurt a bond between two people that is based on mutual respect, trust, commitment, and love.  After all, love has only one important ingredient: trust.  So, the question is asked do you trust God to take you on this one time journey that will forever impact your life?  Only you can answer that question.  Ask it of yourself soon.
We welcome your comments after all these are only the thoughts of one man, with one purpose, and that is to share the love of Christ. May God lead guide and direct your path.
Ed Crawford Ministries