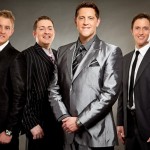 Colorful synchronized lights, video screens, a live band and a venue full of Southern Gospel fans. The stage was set for an evening of fun, entertainment and progressive quartet vocals from one of America's favorite groups, Ernie Haase and Signature Sound. This was just one of their Canadian stops on a tour that had its roots in history and the sound of tomorrow.
In 2010, Ernie Haase and Signature Sound (EHSS) embarked on a journey that would take them across many states and many countries. The Cathedrals Influenced Tour combined the best of EHSS and their rendition of Cathedrals' favorites. The initial DVD/CD recordings for the tour were just a taste of what fans would hear in the live stage show.
Brimming with energy and an excitement that matched the crowd's enthusiasm, Ernie and his team burst onto the stage with a full sound that can only be accomplished with talented musicians and live instruments. With the accompaniment of guitars, drums and the extraordinary Wayne Haun on grand piano and keyboard, along with a touch of background tracks, the group led the audience through a series of EHSS favorites.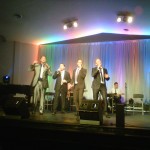 The Canadian crowd welcomed the group with much applause and the occasional standing ovation. From Movin' Up to Gloryland and Changed by a Baby Boy to Glory to God in the Highest, video scenes enhanced the production and the usual EHSS choreography added levity.
New bass singer Ian Owens was outstanding in his performance of standards such as "I Believe" and "I Thirst". His full, melodic vocals seemed to mix the best of George Younce and Armond Morales. Owen's solid stage presence has added a wonderful balance to the group.
Current lead Devin McGlamery entertained the crowd with his vocals and enthusiastic staging, but showed depth, sincerity and maturity in his presentation of the Glenn Payne classic, "We Shall See Jesus". Payne fans may have wondered how EHSS could work this anthem into their program, as it has such a history through that incredible voice. However, through the skill of McGlamery, Haase and Haun, the group has recreated this hymn. A new generation of fans may yet remember "We Shall See Jesus" as McGlamery's song.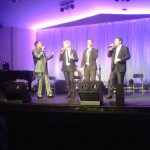 Doug Anderson, original baritone, was in fine voice and blessed the crowd with a solo from his new single project, Dreamin' Wide Awake. The thoughtful, "Jesus is Holding My Hand" was a crowd favorite.
From Radio Songs around two microphones to "Get Your Reward Some Day", sung with George Younce by video, EHSS moved quickly through two sets in a concert that kept the audience attentive for more than three hours. From beginning to end, master emcee Ernie Haase kept the program varied and interesting. Quiet moments of worship choruses were blended with traditional Southern Gospel anthem-style songs and lighter moments such as Elvis Presley's "I Can't Help Falling In Love".
Ernie Haase had a complete education from the Cathedral school of Southern Gospel. His still powerful tenor voice is a treat to hear and his stylings are still reminiscent of Younce and Payne's influence. From these masters he learned how to set up a program and read his audience and he does this well. From "Movin' Up to Gloryland" to "Morning Has Broken" and the ever-incredible "Champion of Love", Haase's training and exceptional talent is obvious. But more than that, it is a delight to see his ability to communicate his faith and commitment to the Lord. There is no questioning where this man's heart lies and that bodes well for the future of EHSS.
The inclusion of Haun has lent an even more artistic and creative flair to the group, along with a live band, which adds excitement and versatility. Additions to the program of other styles of music and the feeling of unrehearsed, spontaneous moments were a delight to the crowd. Haase has indeed put together a sound, program and stage presentation of excellence and quality.
The Signature Sound team appreciated the June Canadian Tour as much as their listeners. Haase says, "My favorite thing about our three days in Ontario, Canada, was the people. The sweet favour they gave us blew us away. We are still talking about it today."
Indeed, the Canadian audiences are also still talking about the Cathedrals Influenced Tour.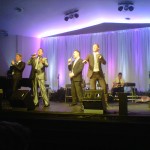 The entire Ernie Haase and Signature Sound evening felt special, like it was put together just for those of us lucky enough to be there to experience it. Just like an old-time Cathedrals concert: A night to remember. Yet it was a night distinctly Signature Sound.